Van Gogh on Weed? Happy Munkey Unites NYC Art Lovers Through Cannabis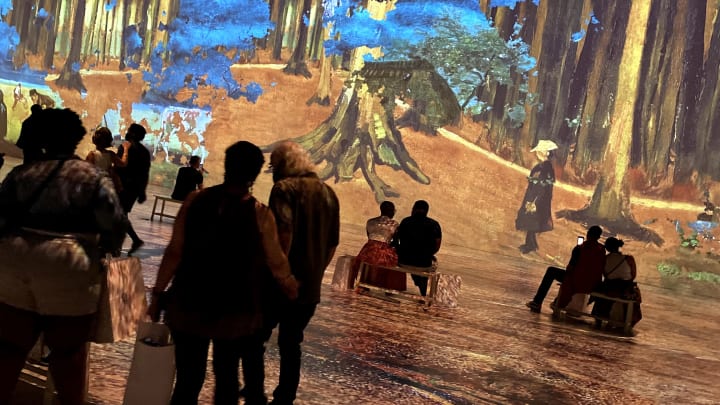 Taking place in major cities across the globe, the Van Gogh Immersive Experience has given audiences the opportunity to submerge themselves in the works of the post-Impressionist era, 19-century artist. Now in New York City – something about this evening was very different.
Guests were handed a generously packed, pre-rolled joint upon arrival. 
Happy Munkey, New York's well-known cannabis lifestyle company took over the exhibit with their ground-breaking collaboration, After Hours at The Van Gogh Immersive Experience. 
From Hip-Hop legends to policy makers, a sold-out crowd descended upon Manhattan's Pier 36 for an evening of open, and legalized cannabis consumption.
Arts and Cannabis
Havoc poses for a photo op in the Van Gogh gift shop. /
Since it's fusion with jazz clubs in Harlem at the beginning of the 20th century, music has been the leading form of art to fuse with cannabis. Fast forward to now – Hip-Hop came along with its unapologetic affinity towards the plant, and has carried cannabis towards its present day, mainstream acceptance. 
When I ran into Havoc, one-half of the legendary rap group Mobb Deep after taking a deep breath (from being star-struck), I learned about his upcoming brand The Infamous Cannabis. Havoc also broke down the interdependent relationship between Hip-Hop and cannabis.
"Hip-Hop gives free promotion to the cannabis industry. Hip-Hop and cannabis go hand-in-hand. Cannabis wanted to hurt our culture, now this type of event is mainstream," he told The Bluntness.
A painful reality is that music, especially Hip-Hop, can be judged. We hear lyrics and immediately interpret messages as 'good or bad.' Unfortunately for some, it's easy to compartmentalize cannabis as 'bad,' especially when it's attached to a particular artist or music genre that they're not a fan of. 
What happens with art? Modern art such as the works of Vincent Van Gogh are blank canvases of perception for viewers. This allows personal thoughts, perceptions and designs to emote, and lead the experience. Judgement is often withheld, and understanding takes place. 
"I believe events like this bring the community together to expand minds, see bigger things, and discover other cultures. This creates more equal opportunities." Havoc further explained.
Healing Through the Arts
While strolling through the exhibit's many rooms, I found myself in the middle of a dance performance. Completely submerged in the works of Van Gogh, the male and female dance duo moved their bodies so intricately, they too became part of the art on display. 
After their performance I caught up with the duo. Not only did they want the audience to experience art and cannabis, but they also wanted them to heal. "We've been doing cannabis and yoga and wellness events where we focus on endocannabinoid wellness and education," explained Salam Diri of SannaOhana Yoga and Wellness. 
"We want people to learn and experience through cannabis. We educate on proper dosing while working out, meditating or doing any activity that benefits the endocannabinoid system. We want to help people create balance, heal themselves, and their community."
Pain relief is why many people choose to consume cannabis. With New York being a medical cannabis market, the recommendation from many physicians is for their patients to obtain their medical cards. The After Hours at Van Gogh Immersive Experience offered patients of New York's medical program something they may never experience elsewhere, a sense of normalcy. 
Ryan Lapore, Director of Business Development for PrestoDoctor, a telemedicine service that connects people who are interested in obtaining their medical marijuana card with certifying practitioners, loves the opportunity this evening provides to New York's medical card holders. "This is a historical evening. Anyone who is a medical patient gets to completely feel normalized. Art is therapeutic. Being able to blend with the plant as medicine is a beautiful thing."
A Glimpse of What's To Come
The Happy Munkey dab station featured the electronic rig from Puffco. /
While chatting with other guests who sat comfy on their museum cushions and completely immersed in the works, a common theme throughout the evening was that the After Hours event hosted by Happy Munkey was only the beginning of what's to come for New York City.
"This is a historical moment, I'm overwhelmed. This event is the future of cannabis," said Tahir Johnson, Director of Social Equity and Inclusion for the U.S. Cannabis Council. "Cannabis is something people were incarcerated for, and look how we're bringing people together for this incredible event. This is just the beginning."
With a consumption lounge right outside the exhibit overlooking the East River, this felt like the start of something different. 
The complimentary and sanitized 'dab' station was a major hit, literally. Combine that with personable brand ambassadors, and branded merchandise for sale, it's easy to see that the Happy Munkey crew knows how to impress their growing following of cannabis lifestyle supporters. 
What's Next? 
Vladamir Bautista (center) engages with the After Hours crowd outside the Van Gogh exhibit. /
"Cannabis hospitality is going mainstream," Vlad Bautista, Co-Founder of Happy Munkey proudly proclaimed. "This is a perfect example of culture shifting. Cannabis has hit every section of society."
Happy Munkey has proven that a conventional brand can seamlessly partner with a cannabis company. In the cultural capital that is New York City, the success of a provocative partnership such as this one, there is one thing that is sure to follow – more opportunities. 
The cannabis lifestyle brand's collaboration with The Van Gogh Immersive Experience is one to watch. As Happy Munkey continues to push social norms, others are indeed watching. Guests agreed that for these types of artistic experiences to continue, more support is needed.
"Everyone needs to pay attention," says Tameika Range, Director of Government and Community Affairs at Cookies, of Happy Munkey's successful event. 
"Multi-state operators have to play their part in changing the perception. They also need to partner with those in the legacy industry who are doing things to change the perception of cannabis."
The Future: Social Equity and Cannabis Consumption 
A noticeable component of the After Hours at Van Gogh Immersive Experience was it's tangible reach. As someone with a marketing and event planning background, producing this type of an event seemed more my speed than operating a dispensary. 
With many looking to break into New York's newly legalized adult-use cannabis market, it's good for folks to know that the ability to operate a space for cannabis consumption has been written into the MRTA legislation. 
This type of cannabis business avoids certain nuances that come with cultivating and processing cannabis for sale. With its moderate entry point, cannabis consumption venues could offer a great opportunity for social equity applicants who are interested in consumption spaces.
Nelson Green, Regulatory Compliance Associate for Green Check Verified offered social equity applicants this piece of advice, "What New Yorkers can learn from this event is to make those connections with investors and banks now so that when the time comes, those interested in the cannabis industry can start their business." 
He went on to say, "Although New York has yet to release the license requirements associated with consumption lounges and venues, I think it's great that Happy Munkey has pushed forward by partnering with the Van Gogh Experience here in New York."
Need a little more Bluntness in your life? Check out our YouTube page!