Best THC Edibles and Beverages of 2023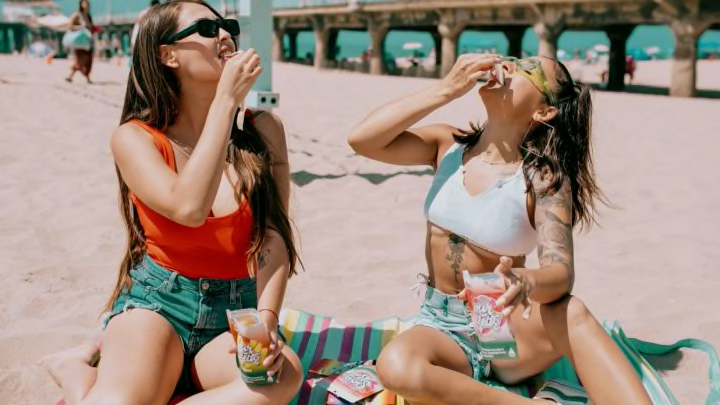 The evolution of cannabis edibles is a thing of beauty. Many of us have some kind of story about our first experience with a pot brownie or other kind of homemade treat, most of which involve getting entirely too stoned. It seems crazy to look back on those days and remember just nibbling away on a baked good with some unknown potency per bite. Sure, there was a formula to weighing out the weed before infusing the butter, but it wasn't exactly science.
Now, consumers can shop by milligrams of THC per serving and even dial in dosage to a precise measurement by bite. It's extremely convenient and makes edibles a much more approachable way to enjoy cannabis. There are thousands of products on the market today, including categories like gummies, THC beverages, syrups, capsules, and more. We like to lump them all together under the edibles category, but you'll find them all below. Take a look at our top list of THC edibles you need to try this year and where you can find them. 
Best Gummies of 2023
First up on our list are the best gummies. We've got a little bit of everything, including what you can find in a dispensary versus what you can buy online. See why we love these brands and check out where to buy them. 
Best Delta-8 Gummies: DIMO
DIMO is no stranger to Delta-8 THC products. They initially made waves with their D8 pre-rolls, but soon expanded their product line to include vape cartridges and disposables. It only made sense to bring consumer favorites like Sour Peach Rings, Sour Gummy Worms, and Sour Belts into their lineup. DIMO's options include multiple flavors and potencies ranging from 250 mg to 1000 mg per package. 
Delta-8 is a milder form of THC than Delta-9, but offers a mellow high, which is perfect for newcomers to cannabis edibles or anyone that wants a smoother experience. Because DIMO sources all of its cannabinoids from hemp, you can order online for delivery in most states.
Availability: Nationwide, wherever hemp-derived cannabinoids are legal
Where to buy: Shop DIMO D8 Gummies Online
Best THC-P Gummies: DIMO
DIMO earned itself two spots on our list because they are quite simply the alternative cannabinoid gurus. This time, DIMO took their classic Delta-8 gummy formula and added THC-P. If you haven't heard of this cannabinoid, it is a naturally occurring cannabinoid found in trace amounts in hemp and marijuana. To produce enough for infusion, manufacturers chemically alter CBD from hemp plants.
The resulting THC-P is believed to be up to 33 times stronger than traditional Delta-9 THC. Now, this doesn't mean you'll get 33 times higher, it just means that THC-P bonds much more strongly to the endocannabinoid receptors. However, these gummies will certainly get you quite lifted, so go easy! Each package contains 1000 mg. 
Availability: Nationwide, wherever hemp-derived cannabinoids are legal
Where to buy: Shop DIMO THC-P Gummies Online
Best HHC Gummies: LOOPER
HHC is another newer alternative cannabinoid. This one is super mild, even less potent than Delta-8 THC. For so many, edibles can deliver too much of a punch, and to that we say – give HHC a try. LOOPER offers three types of HHC gummies, each package containing just 250 mg. That means that each piece is only 25 mg, with a total of 10 gummies per bag. 
Try LOOPER HHC gummies anytime you want to kick back and relax without getting too high to function. We like these for daytime adventures like brunch, shopping, hiking, or a self-care day at home. 
Availability: Nationwide wherever hemp-derived cannabinoids are legal
Where to buy: Shop LOOPER HHC Gummies Online
Best Delta-9 Gummies: Lime
Lime Delta-9 gummies are made solely with live resin, which means they deliver a full body, mind-melting high that hits just right. Live resin delivers a full-spectrum experience, and these gummies come on strong and last longer than most. They are perfect for experienced consumers, but even those trying edibles for the first time will fall in love with Lime. 
Each package contains 10 gummies with 10 mg THC per piece for a 100 mg total. There are plenty of flavors, and they come in sativa, indica, and hybrid options so you can choose your vibe. As Lime says, "Life is better with Lime," and we couldn't agree more. 
Availability: California
Where to buy: Shop Lime Gummies Online
Best CBD Gummies: Otterspace
Otterspace specializes in hemp-derived cannabinoid products. If you want a full-spectrum CBD product that actually works, look no further. They offer a solely CBD gummy, which is exceptional, but the CBD + CBN blend made it on our list because this gummy is ideal for nighttime. While CBD offers relaxing, therapeutic benefits, CBN is known to promote deeper sleep. Together, they tuck you in and lull you off to dreamland. 
An added bonus is that Otterspace uses natural ingredients like coloring and flavoring derived from fruit. Each of their vegan sleep gummies contains 25 mg CBD and 15 mg CBN, with a total of 30 gummies per container. 
Availability: Nationwide, wherever hemp-derived cannabinoids are legal
Where to buy: Shop Ottespace Gummies Online
Best THC Beverages of 2023
Now that you've picked out a few favorite gummies to try, why not wash it down with a little THC-infused drinky drink? Depending on your flavor preference or your THC tolerance, there is something for everyone on this list. From high dose to microdose, we've got something for you. 
Best New THC Beverage: St Ides High Tea
St Ides is no stranger to cannabis-infused beverages. Its first take was a 4-ounce shot with a whopping 100 mg THC. St Ides consumers have a high tolerance! With such massive success with its first beverage, St Ides developed a new drink for its loyal fans and the new ones to join the party.
High Tea is a 12 oz drink with 100 mg THC. It's reminiscent of nostalgic canned teas from the good old days but with a potent punch. There are two flavors – Wild Raspberry and Georgia Peach. 
Availability: California
Where to buy: Shop St Ides High Tea Online
Best Functional Beverage: Pabst Labs
It's impossible not to love anything with this bright blue ribbon on its label. However, this drink is not the beloved lager with a cult following. Instead, this drink comes from Pabst Labs, and it's so tasty and easy to drink that you'll have to remind yourself to slow down. 
Pabst Labs High Seltzer contains 10 mg THC per can and comes in six fresh flavors. Their two latest in the lineup (featured above) offer a little something extra. Midnight Berries is your go-to for bedtime with CBD and CBN alongside the THC. Energy Guava is for getting out and doing something with your day, thanks to the boost from THCv. There's no wrong time to enjoy a High Seltzer, so we suggest investing in a 24-pack so you can try them all. 
Availability: California
Where to buy: Shop PBR High Seltzer Online
Best High-Dose Beverage: Uncle Arnie's
Uncle Arnie's is California's best-selling high-dose beverage brand and we support that. The first drink to launch was an Iced Tea Lemonade with 100 mg THC per bottle. Yeah, okay, so what? Well, it's incredibly delicious. Like, amazingly good. You've never had an Arnold Palmer like this one. Then, they came out with a slew of new flavors, and now their 100 mg beverages come in either an 8-ounce bottle or a 4-ounce shot. 
The mascot Uncle Arnie is just as loveable as his drinks and encourages his followers to "crack it and smack it" or, just open the bottle and drink it. We love the laid-back lifestyle, and easy living Uncle Arnie is here for, and we wish he were our real uncle. For now, grab a bottle of Uncle Arnie's and go extra on the easy. 
Availability: California, Oregon, and more states coming soon!
Where to buy: Learn More About Uncle Arnie's
Best Low-Dose Beverage: Wynk
Fans describe Wynk as "A better LaCroix…with weed." That pretty much sums it up. These carbonated drinks' bright, crisp flavors are made better with equal doses of THC and CBD. The 1:1 profile is perfect for catching a buzz but skipping on the hangover. In fact, that's a big reason why so many consumers love Wynk. The low-dose drink is a perfect alcohol substitute for those times when you still want to feel a bit altered but not drunk or too intoxicated. 
You can try Wynk in three flavors, and they are delicious straight out of the can or as a mixer for THC mocktails. The dosage is 2.5 mg THC and 2.5 mg CBD, so you can enjoy a few without getting blasted. Or, for medical cardholders, try Wynk in 5 mg THC and 5 mg CBD. 
Availability: Arizona, Arkansas, Maine, Massachusetts, Michigan, Missouri, Nevada, New Mexico, Ohio, and Oklahoma
Where to buy: Find a Wynk Retailer Near You
Best THC Syrup: Lime
Sometimes you just want a little bottle with big effects. That's where Lime syrups come in. These 4-ounce bottles may look cute and sweet, but they are loaded with 1000 mg THC from live resin extract. Live resin is a powerful way to infuse any kind of cannabis product because it retains a fair amount of the plant's natural terpenes and cannabinoids. And that means a full spectrum high that comes on strong and lasts longer than your average edible or beverage. 
We can't imagine any scenario where someone would drink a whole bottle of Lime syrup, but if that's your thing, more power to you. We recommend using a small dose of another beverage of your choice because these drinks actually taste amazing. They are available in several flavors, like fan favorites Pine Lemonade and Fruit Punch. 
Availability: California
Where to buy: Shop Lime Syrups Online
You Can Always Eat More…
But you can't eat less. This is the golden rule of cannabis edibles and drinks, and it's worth the reminder. Start with a low dose and wait a full two hours to see how you feel if it's your first time. Then, if you are comfortable with the results, have a bit more. There's nothing worse than overdoing it on ingestible cannabis because it can take hours to come back down. You've got nothing to prove, so take it easy and enjoy all of these delicious ways to get high.