CULTURE
The 2021 FashionKush Cannabis Gift Guide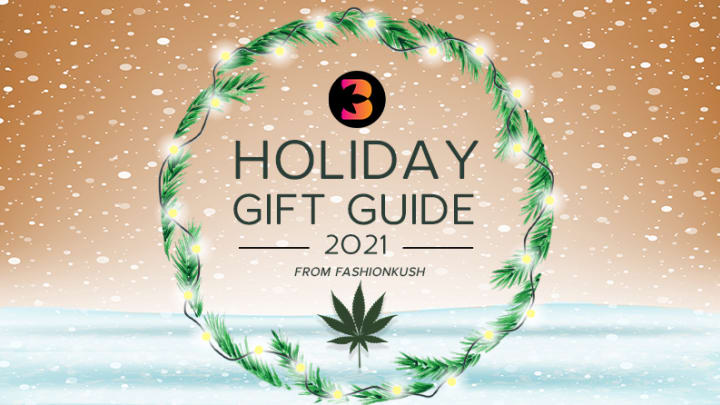 This holiday season, we at The Bluntness decided to try something a little different. Instead of curating our own gift guide, we reached out to a few women in cannabis to get the scoop on what they are gifting this season.
In our second installment of our holiday gift guide, Fashionkush takes us through their picks to deliver you the highest holiday season yet. Fashionkush consists of a mother-daugther duo determined to shatter the stoner stigma and bring chic to cannabis, one lipstick lighter at a time.
2021 FashionKush Gift Guide: Gifts for the Cannabis Consumers
A note from Fashionkush: 
While we are dedicated to helping you smoke in style, we never forget how privileged we are to have this opportunity. At any given moment, there are 40,000 people incarcerated on weed-related charges. Consider making a donation to the Last Prisoner Project to help fight criminal injustice.
333 Angel Number Collection
The  333 Angel Number Collection serves a sign to connect with your highest self! It features a chic glass water bottle, ashtray, and comfy oversized t-shirt. Get the bundle for a unique, thoughtful gift for your favorite cannabis lover.
The Angel Number 333 indicates that despite your fears, anxieties, mislaid plans, or wrong turns, you're on the right path. The universe is urging you to keep going and so are we. We give this reminder as a gift to our loved ones constantly so they remember to connect with their higher self.
Get Supr Instant Coffee
Get Supr Instant Coffee's hemp-infused instant coffee has been a game changer for me. It's energy minus the negative side effects from your normal cup of coffee - shakes, anxiety, you know the deal! 
Pair it with a cute mug for your coffee-obsessed coworker or bestie. If you're looking for a coffee alternative, this is a great option.
Butterfly Joint Holder Ring
One thing we appreciate at Fashionkush is a good manicure. For every girl looking to *preserve the mani*, our butterfly joint holder ring is a whole vibe! Pair it with our matching butterfly pre roll cones for the perfect gift idea. 
Paleo Paw CBD
This pick is for all of our animal lovers out there. I absolutely love this non-gmo, all organic brand of CBD, Paleo Paw CBD products for my fur babies! I have a very anxious rescue, so I know from experience how hard it can be to find a good product. 
We use  Daily Wellness CBD and it truly does wonders for his separation anxiety. A great gift to give to your dog (other people do this, right?) or for the obsessed dog mom!
The Successful Stoner Apparel Collection
:  If I had to pick one outfit to wear for the rest of my life it would be this ultimate cozy set from the The Successful Stoner Collection. It's one of my personal favorite drops we've ever created and the SSC sweatshirt + matching sweatpants and two of the most comfortable pieces of clothing in my wardrobe.
What's better than the gift of comfort? And we all know the truth here - the world is filled with successful stoners. Spread the word this holiday season.
Lord Jones Royal Oil
Lord Jones Royal Oil is my go-to facial oil! It's infused with 1000mg of CBD and grapeseed oil. The way this oil leaves my skin so soft, moisturized, and glowing is a true gift. The key to its magic is that it works with any skin type, making it the perfect gift not only for you, but any beauty lover in your circle.
The Chill Pill Pipe
We've been told to take a chill pill so many times, we decided to make our own. This fully functional Chill Pill Pipe fits anyone's aesthetic. It's a super fun gift or stocking stuffer for that friend or family member who needs to take a chill pill and likes to smoke in style.
Leef Organics
When I'm feeling anxious or need a little added support for the day but can't smoke in the moment, I use Thrival Superfood CBD extract and their Nooks & Crannies CBD soap from Leef Organics.
I love to put the two together but each alone is a great product. This is the CBD I personally use and recommend to others. It would be a perfect gift for that wellness obsessed person in your life.
The Martha Tee
In case you need a reminder Martha Stewart knows how to roll a joint, we've got you covered. Our best-selling Martha Tee will be a hit for anyone on your list! It's oversized, super comfy, and emblazoned with the Martha Stewart quote that started it all for us - "Of course I know how to roll a joint."
Baked Beauty CBD
I swear by these Baked Beauty CBD sticks! This trio features individual sticks for headaches, cramps, and anxiety, all of which work wonders. The CBD stick for cramps has been a game changer for that time of the month. With names like "Calm the Hell Down" and "Over This Shit," this CBD stick trio would be a fab stocking stuffer!
We at The Bluntness are wishing you a safe and healthy holiday season! Need a little more Bluntness in your life? Sign Up for our newsletter to stay in the loop.
Need more Holiday gift ideas? Visit our Green Love Denver Holiday Gift Guide for more recommendations.