INDEPENDENT, MINORITY & WOMEN-OWNED CANNABIS EVENT & MEDIA POWERHOUSES ANNOUNCE THE MEDIA MIXTAPE PARTY VOL. 1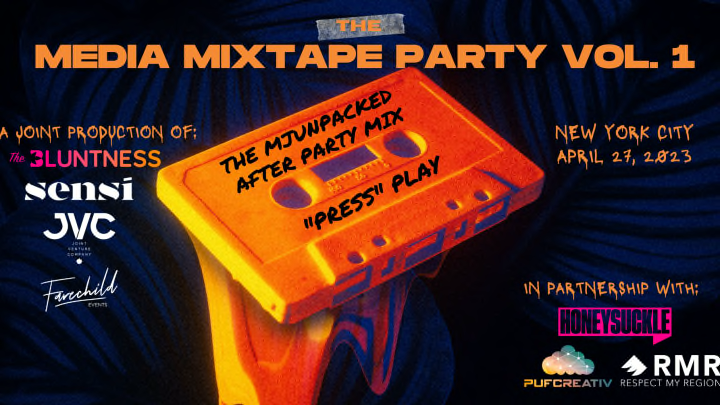 Announcing THE MEDIA MIXTAPE PARTY VOL. 1, a collaboration between leading independent, minority and women-owned cannabis event and media powerhouses /
New York City is about to witness a historic collaboration between leading independent, minority and women-owned cannabis event and media powerhouses, as they come together to host THE MEDIA MIXTAPE PARTY VOL. 1 on Thursday, April 27, 2023 following MJ Unpacked NYC.
Organized by The Bluntness, Sensi Media Group, Farechild, and Joint Venture & Co., in partnership with Honeysuckle Magazine, Respect My Region, PufCreativ, and others to be announced soon, the MEDIA MIXTAPE PARTY VOL. 1 delivers a perfect mix of consumption, music, networking, and more, providing conference attendees and other guests from the NYC and Northeast cannabis communities with an unforgettable event experience.
This one-of-a-kind event celebrates the collective and individual contributions made by these publishers and event producers to the cannabis community, culture, and city, alongside the fearless legacy brands, legal operators, advocates, influencers, investors, and professionals who are evolving the narrative and igniting change in and for the New York and Northeast cannabis communities and beyond.
The MEDIA MIXTAPE PARTY VOL. 1 takes place at the conclusion of the second full-day of MJ Unpacked NYC, a marquis industry conference that brings the industry's leading and emerging cannabis brands and retailers together.
"From a commercial POV, The MEDIA MIXTAPE PARTY VOL. 1 offers a cost-effective and time-efficient way to meet with some of the industry's most influential reporters, creators and influencers," said Harrison Wise, founder and publisher of The Bluntness. "But best of all, like in the early days of Hip-Hop when that "mixtape hype" was seen as a big deal for MC's and artists, attendees and sponsors can participate in the "media mixtape" hype via this dynamic event in a uniquely New York setting, with like-minded members of our flourishing cannabis community who will benefit from the unprecedented audience reach and exposure that the organizers, individually and collectively, possess."
Farechild CEO and Co-Founder James Zachodni expressed his excitement, saying, "This event, like all Farechild events, will be a unique opportunity for brands, advocates, influencers, investors, consumers, and professionals, among others, to connect and share their experiences, while celebrating the pioneering legacy brands, legal operators, and individuals who are igniting change in and for the community in New York and beyond."
Deputy Director, Global Reach, Sensi Media Group, Richard William Guerra added, "This event promises to be an unforgettable experience that will showcase the evolution of the narrative surrounding cannabis. Sponsors and attendees will have the chance to connect with like-minded individuals, enjoy music, and experience the perfect mix of consumption and culture."
Early bird tickets for THE MEDIA MIXTAPE PARTY VOL. 1 are available through April 7, 2023. Grab your tickets now before the price increases.
CLICK HERE to download the Sponsorship Deck or email advertising@thebluntness.com to discuss activations and sponsorship opportunities.
We hope you'll join us at the MEDIA MIXTAPE PARTY VOL. 1 as it will surely be the perfect opportunity to celebrate the emerging and vibrant cannabis community in New York City and beyond.