CULTURE
The Dank Duchess on the Beauty of Hashish, Growing Your Own, and Cannabis Unity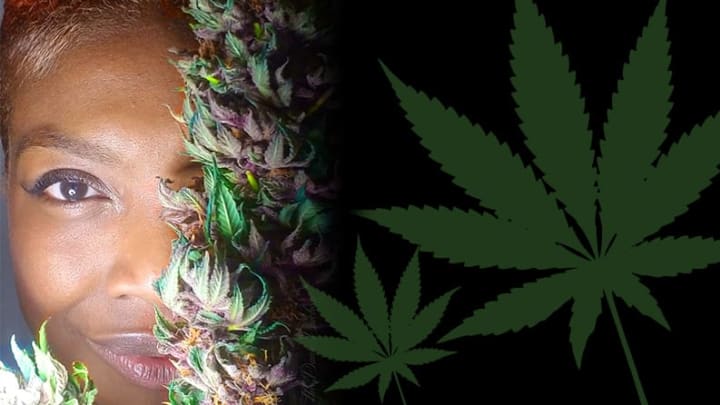 The Dank Duchess is teaching the world about the beauty of hashish. / Photo courtesy of The Dank Duchess
The Dank Duchess is an international cannabis consultant, cultivator, and public speaker whose "niche is hashish." With 18 years of cultivation experience and professional training from Hash Master Frenchy Cannoli, Duchess has dedicated her career to educating people about high quality cannabis and hashish through print, film, and social media. 
Duchess sat down with The Bluntness's Gregory Frye to discuss cultivation, tourism, the pending legal market in New York (she's from Brooklyn originally), and of course, hashish. 
Unexpectedly, Duchess starts out the interview by saying she was never attracted to cannabis. 
"I went all through high school and college with the mentality of 'Just say no.' If it wasn't for meeting my husband Nicholas, he was really into cannabis when we met and I used to hound him for it. And then one day, the glass just called me and I decided to try it. Once I realized I could still do calculus without my brain numbing or whatever they said would happen, I was full steam ahead with cannabis," Duchess says.
She quickly realized she didn't know much about the plant or its effects, but liked it so much that she was immediately enthralled. She and her husband began growing their own plants shortly after.
"I was living in Florida at the time, so we had to keep it on the super, super DL for a long time--ten years! I ended up moving to California because the paranoia was eating me alive. If you got caught with a joint at the time in Florida, you could go to jail, and here I was growing plants."
Duchess relocated to California in 2014, where she was royally introduced into the world of hashish. She'd had experience with dabbing concentrate before, but it was at the 2014 Cannabis Cup in NorCal where she dabbed hash for the first time with Cannoli, opening her eyes to her new favorite cannabis product.
A month later, Duchess attended a cannabis conference where she ran into Cannoli for a second time. "I asked him for coffee, and we realized we had a lot in common. We were both web designers in the nineties, and here we were both involved in cannabis. A couple days later, he asked me if I wanted to write about hashish for a magazine and I was like, sure!"
Duchess's first instincts were to smoke more hash, but Cannoli had a different idea. 
"He told me that in order to write about hash, I need to learn how to make hash so that I can be speaking from a place of authenticity. I was not very happy about it, because it wasn't my focus. I was just trying to grow more cannabis and to be involved with media, but here was my opportunity to get involved with media. It just required that I learned to make hash."
And in her own words, the rest is history. She threw herself into the process, quickly realizing that she couldn't imagine herself doing anything else.
Advice for learning how to grow your own cannabis
The Dank Duchess learned how to grow cannabis the hard way, and now she's a master of the craft. / Image courtesy of The Dank Duchess
Today, Duchess has almost two decades of growing experience, sharing insights and techniques with growers and hash makers around the world. She also has dozens of articles, how-to videos, public appearances, and educational courses on hashish to her credit, and she's even pioneered her own hash making technique called the Dutch Touch.
In her approach to growing, Duchess considers all angles: terpenes, flavor profiles, strains, and how everything will play together on your palate. "Growing is for everybody," Duchess says. "One of the things that's nice about growing is that it allows you to have this relationship with the medicine you're going to be consuming."
With cannabis still varying in legalization across the nation, many people may feel intimidated to begin growing their own plants at home, especially with lack of knowledge or education on the topic. But according to Duchess, it's called weed for a reason. 
"Weeds grow everywhere, so the biggest thing you could do to mess up this whole thing is overwater. That's it. Besides that, cannabis wants to grow, and you can do it."
She encourages cannabis enthusiasts to just get started and not be intimidated by the process. Duchess looks at growing as a way to get in touch with what you're putting in your body and truly feel connected and in control of your life and your health. 
The unifying effects of cannabis tourism and travel
Outside of growing and cultivating, the Duchess has traveled internationally to discuss cannabis  and experience its various cultures across the globe. She believes cannabis brings people together and is founded on innovation – the increase of cannabis tourism only helps facilitate this.
"I think all of that is essential for the entire cannabis experience. We have a tendency to be very provincial, but it's eye-opening and horizon-expanding to be able to interact with other cultures and the way they've done cannabis for a long time, because cannabis didn't come from California. It didn't come from the United States. When I go over to Barcelona, which has become the international meeting place for the cannabis industry, you meet people from everywhere. And that's the drive."
In fact, it was her travels that really opened the Duchess's eyes to how cannabis should really be utilized: for health, wellness, and self-growth. For her, cannabis is an opportunity to connect with people, and to take control of your own life, and to smile. 
This desire for cannabis connection is one thing Duchess loves about judging cannabis cups all over the world, like the Emerald Cup, the Terp Tower Invitational, Monsters Cup, the Copa Mexico in Mexico, and the Masters Rosin in Barcelona. 
The Dank Duchess on returning to her roots in NYC
As naturally as cultivating and reviewing cannabis now comes for The Dank Duchess after years of hard work and commitment, she's had to face her fair share of struggle in regards to the illegal market. Although New York has legalized adult-use cannabis, the Duchess grew up in Brooklyn, when cannabis was still very much prohibited in the state.
"Right now, our criminalization of cannabis is one of the greatest injustices that we've ever done to the human race," Duchess says. Many people throughout the nation are still locked up for cannabis crimes, and beyond that, the stigmatization of the plant continues to put people at risk of losing their jobs or families.
Although Duchess hasn't lived in New York for a while, she's visited throughout the years and witnessed her home state's push for legalization, which has finally been realized. She calls attention to the activists who've been at the forefront of this push, making sure that what comes through is as close to what the people need as possible – as opposed to feeding the corporate beast
In honor of New York's first legal 420, Duchess returned to the City to attend some events, gain some insight into the impending legal market, and get lit. 
"I want to teach hash-making in New York, legally. The thing is, we can do anything behind closed doors, but once you get a taste of not worrying, that those cops at the door are just coming to say hi, that really allows you to have all your creativity flow, and you can really be your best self."
Duchess is excited to network within the New York industry, spread the news about her brand, and consult. 
"Now I get to set down at least a little bit of roots, and be doing some hash fairly consistently for the first time in three years. So I'm pretty happy about that. I'm actually really happy about that."
Need a little more Bluntness in your life? Check out our YouTube page!