Cannabis Legal in New York? Here's What You Need to Know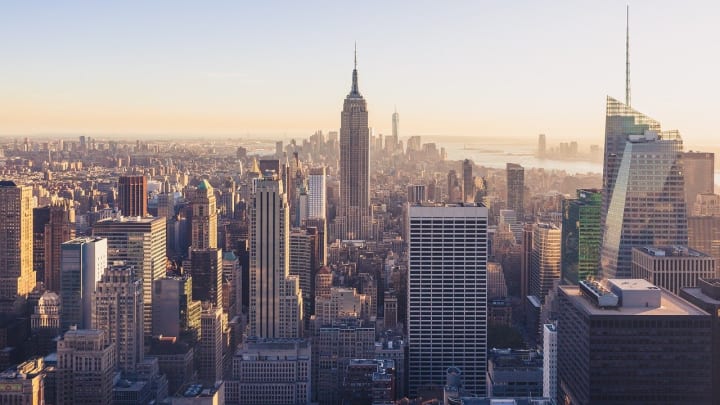 Lawmakers in the Empire State are making history in 2021. /
It's official. On March 31, 2021, New York Gov. Andrew Cuomo signed the Marijuana Revenue and Taxation Act (MRTA) into law.
The historic moment comes after a late-night session where state lawmakers pushed the legislation through. Cuomo had vowed to sign the bill into law immediately, calling it "a major step forward for the Empire State."
The new cannabis laws take effect immediately although New Yorkers will likely wait 18 months to two years before legal sales start.
In addition to legalizing cannabis for New Yorkers, the new legislation will aim to seek justice for those who have been wrongfully and racially targeted by anti-cannabis laws, encourage small businesses, and diminish the illegal market. 
During the March 30 legislative session, Senate Finance Committee Chairwoman Liz Krueger (D) called the passing of the new cannabis bill a "historic" day. "I could not be more proud to cast my vote to end the failed policies of marijuana prohibition in our state, and begin the process of building a fair and inclusive legal market for adult-use cannabis. It has been a long road to get here, but it will be worth the wait. The bill we have held out for will create a nation-leading model for legalization."
Krueger also added that ending the prohibition laws which have disparately impacted so many communities of colors was always a top focus for this legislation – and then, equally important, using the "economic windfall" of legalization to help heal and repair those same communities.
"I believe we have achieved that in this bill, as well as addressing the concerns and input of stakeholders across the board. When this bill becomes law, New York will be poised to implement a nation-leading model for what marijuana legalization can look like," Krueger said.
Also weighing in on the Senate floor was Assembly Majority Leader Crystal Peoples-Stokes (D), who referenced the very father of cannabis prohibition himself. "Today we are ending a 90-year prohibition that was initiated by a gentleman called Mr. Harry Anslinger. We're continuing our work to right the wrongs of prohibition," she said.
"We will build a new, legal adult-use cannabis industry in the state of New York to replace the large underground industry that we know has existed for years."
Here are some of the major highlights to expect from legal cannabis in New York:
Effective immediately, possessing up to three ounces of cannabis or 24 grams of concentrate is not illegal.
Police may no longer use "cannabis odor" as a valid excuse for searching. 
The bill will allow adults 21 and older to purchase and/or possess cannabis products from licensed retailers (licenses are expected to be distributed by 2022). 
Adults will also be allowed to home cultivate up to six plants for personal use, three of which can be mature. There may be no more than 12 plants growing in a household with more than one adult. 
Anyone with a past or current cannabis-related conviction will have their record automatically expunged.
Social consumption sites and cannabis delivery will be allowed.
An Office of Cannabis Management will be established and responsible for regulating the legal market. 
50 percent of cannabis licenses will be allocated for social equity applicants, minority- and women-owned businesses, disabled veterans and farmers in financial need. 
Tax revenue from cannabis sales will cover the cost of the program. 40 percent of the remaining money will go to a community reinvestment fund, 40 percent will support New York's public schools, and 20 percent will help fund drug treatment centers and public education programs. 
Cannabis products will be taxed at nine percent, with an additional four percent local tax to be split between counties and cities/towns. Retailers will also face a THC tax based on product type: 0.5 cents per milligram for flower, 0.8 cents per milligram for concentrate, and three cents per milligram for edibles. 
New York's existing medical program will expand its list of qualifying conditions and allow patients to smoke cannabis products. Patients will also be able to purchase a 60-day supply at a time,  rather than the current "30-day supply" rule. 
Discrimination against those who consume cannabis or work in the industry will be protected against, in regards to housing, educational access, and/or parental rights.
Individual jurisdictions will have the option to opt out of allowing cannabis retailers and/or cannabis consumption sites by the end of this year. However, residents are able to override these  bans via local referendum.  
The State Department of Health will oversee studies related to cannabis-impaired driving, and may develop a test. Driving while impaired by cannabis remains a misdemeanor.
Smokable hemp flower also approved.
If current medical cannabis businesses wish to participate in the adult-use market, they may do so in exchange for licensing fees, which will support the social equity program. 
You can read the full bill here.
So, why is this bill finally passing? What makes this year different from previous years for cannabis in New York?
Cannabis Decision Comes in Wake of Governor's Intensified Support of Legalization
Gov. Cuomo's outspoken support of cannabis reform went a long way. He sees it as a means to offset the economic impact of COVID-19 – as well as an opportunity to promote social equity.
Cuomo's support is important and serves as a stark contrast to other state governors, such as Gov. Kristi Noem of South Dakota, who successfully led an attempt to undermine voter-approved cannabis initiatives in the state.
When Cuomo first entered office in 2011, he was initially opposed to cannabis reform, calling the plant a gateway drug. However, he changed his views on adult-use cannabis in 2018 and went on to sign a law to decriminalize cannabis use in the state in August 2019.
In October 2020, Cuomo said cannabis legalization in New York would need to happen soon because the state is running out of money.
"I've tried to get it done the last couple years," Cuomo had said. "There are a lot of reasons to get it done, but one of the benefits is it also brings in revenue, and all states – but especially this state – we need revenue and we're going to be searching the cupboards for revenue. And I think that is going to put marijuana over the top."
The Past Issues With New York's Medical Cannabis Program
Part of New York's plan is to set up an Office of Cannabis Management, which would oversee adult-use cannabis as well as the existing medical cannabis program in New York.
As it stands, medical cannabis has been legal in New York since 2014, but the program has been incredibly restrictive. While it was easy enough to be seen by a professional and subsequently qualify for a medical card, flower has been completely illegal since the program began. 
The only forms of cannabis a patient could legally purchase before the new bill were capsules, tablets, lozenges, liquid/oil, topicals, or transdermal patches. The bill legalizing flower for medical patients will allow so many more people access to the care they desire. 
The History of Anti-Cannabis Laws and Racism in New York
New York's fresh cannabis legislation was one of at least eight cannabis bills filed for the 2021 session.
Most people had little doubt New York would go green, especially with New Jersey already having legalized the sale of adult-use cannabis.
And of course, there's also the fact that public support for cannabis legalization continues to rise, now at an all-time high of 68 percent, according to the latest Gallup poll.
"It is long past time for New York State to catch up with our neighbors and legalize, tax, and regulate adult-use marijuana," Krueger told Marijuana Moment earlier in 2021.
"To my mind the most compelling reason for doing so has always been to end the unnecessary and destructive impact of the so-called 'War on Drugs' on communities of color."
In case you missed it, cannabis prohibition in New York and everywhere else was racist from the start all the way to present day. To give you an example, 94 percent of low-level cannabis arrests in New York City in 2019 were Black and Hispanic, according to NYPD arrest data. Considering the fact that people consume cannabis at similar rates across all racial and ethnic groups, this is undeniable racism. 
The NYPD has claimed that more residents in predominantly Black and Brown neighborhoods were calling to complain about cannabis, but this claim is pretty baseless considering The Times' analysis, which found that, when comparing neighborhoods that call to complain about cannabis at a similar rate, police almost always made arrests at a higher rate in areas with more Black residents. 
According to Drug Policy Alliance:
Statewide in the first half of 2019, Black and Latinx people accounted for 75% of people arrested for low-level marijuana – despite being only 33% of the state's population. In NYC the overall number of marijuana arrests fell dramatically in the first half of 2019, but racial disparities increased, with 93% of those arrested for low-level marijuana being Black or Latinx. The arrest rate upstate is double 1990 levels. In 2018, youth 25 and younger accounted for 58% of all low-level marijuana arrests, despite being only 30.9% of the state population.

- Drug Policy Alliance
The Significance of Cannabis Legalization in New York
What does New York cannabis legalization mean to you?
The biggest and most urgent significance is to stop arresting and punishing people for cannabis so that we can work together to heal the people, families, and communities impacted by the senseless War on Drugs.
Aside from this social justice imperative, New York's legalization of cannabis has other ramifications as well. In a state with a population of more than 8.3 million people – and NYC being the world's greatest media hub – the continued federal prohibition of cannabis is now on its last legs. And the lingering stigma has been dealt its swiftest blow yet in the eyes of not just people in the U.S. but other parts of the world as well.
Plus, New Yorkers are clearly ready for legalization. In a 2019 study, more than 1.3 million New Yorkers admitted to using cannabis.
And apparently 90 percent of New York college students support legalization.
After the state decriminalized cannabis use in 2019, New York cannabis laws and penalties were not as draconian as other states – depending on the amount and type of cannabis. However, felony charges were still possible, and even a misdemeanor conviction can be disruptive to a person's life, work, and family.
Legalizing cannabis in New York and stopping these senseless arrests is a major step forward in the effort to pick up the pieces from a 'war' that warped every institution in the U.S.
No matter how you want to slice it, New York cannabis legalization brings with it hope and opportunity to build new bridges based on science and humanity.
Much like the cannabis legalization push in Mexico, the world is watching what New York does in its own efforts to get on the right side of history.
Are you still missing out on The Bluntness newsletter? Sign Up today to stay in the loop.