CULTURE
Exclusive: The Road to the Emerald Cup Harvest Ball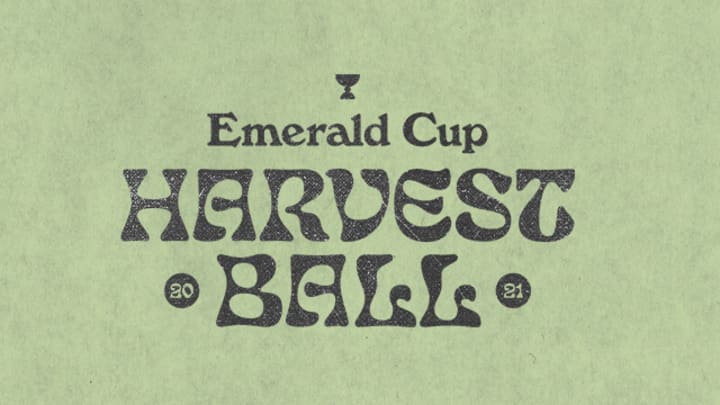 The Harvest Ball -- a celebration of community, cannabis, and culture. /
Harvest Ball is coming, y'all. On December 11-12, 2021, for the first time ever, Emerald Cup will be hosting its annual Harvest Ball, a celebration of life, community, cannabis, and culture. 
Though the event's competition and awards show has moved down to Southern California, the spirit of its Northern California legacy is still very much alive and well. And shall continue as such. 
Recently, I hopped on a zoom with Emerald Cup founder and associate producer, father-daughter duo Timothy Blake and Taylor Blake, to talk about the Emerald Cup's history and the road to Emerald Cup Harvest Ball.
The Emerald Cup's origin story and history
The Emerald Cup is the longest running sungrown organic cannabis competition in the world. Debuting in 2003, the cultural phenomenon is now in its eighteenth year, with over 40 different categories. Those categories have grown to include mixed light and indoor cannabis competitions. 
"We just wanted to have a friendly celebration of the fall harvest, and a little cannabis competition amongst friends, kind of like you see at the county fairs all over the country," says Tim Blake, Emerald Cup founder. 
The event hosts an on-site cannabis marketplace, several expert speaking panels, and well-known musical performances. Basically, Emerald Cup is a full ass interactive art, music, and plant medicine festival. "It was a rocking psychedelic all-night party from the get-go."
Emerald Cup originally started at Area 101 in the Emerald Triangle. In 2013, the event moved to Santa Rosa Sonoma County Event Center in 2013, as it had grown so large that the event's vendors and sponsors needed better, more direct access to consumers. 
Now, Emerald Cup sets its sights on Los Angeles as Spring 2022 will bring the legendary competition and awards show to Los Angeles, the epicenter for all things cannabis business and culture. 
"We needed a larger platform for our contestants. Southern California and LA are the capitals of cannabis. They've really embraced cannabis, psychedelics as well, and that's the biggest media capital in the world. We intend on making this a worldwide competition, so you've really got to be on the biggest stage, which is LA," Tim Blake tells me about what motivated this transition.
It's a move that will greatly affect those NorCal brands, which is exactly why the Emerald Cup Harvest Ball has come to exist.
The first ever Emerald Cup Harvest Ball
The Emerald Cup has now evolved to become two separate events: The traditional Emerald Cup competition and awards show and the Emerald Cup Harvest Ball, the continued celebration for outdoor cannabis growers in California to celebrate their months, years, and generations of everyday investment into a plant that has changed the lives of so many people. 
The Emerald Cup Harvest Ball is a gathering of the global cannabis community to celebrate everything we love about that stinky green plant. 
While it will no longer host the cannabis competition, The Emerald Cup Harvest Ball will still host an on-site marketplace with brand booths, several speaking panels about both cannabis and psychedelics, as well as two full days of musical lineups. 
The Emerald Cup Harvest Ball will feature speakers like Amber Senter of Supernova Women, Guy Rocourt of Papa & Barkley, and Whitney Beatty of Josephine and Billies; in addition to musical performances from acts like Big Wild, Trevor Hall, Mr. Carmack, Sudan Archives, and many more. 
In a sentence, Emerald Cup Harvest Ball is the cannabis party of all cannabis parties and you definitely want to be there. 
Asked the difference between the Emerald Cup Harvest Ball and previous Emerald Cup events, Taylor Blake tells me, "The main difference between Harvest Ball and previous Emerald Cups is that we just do not have the competition attached to it as the awards show. When we came out of COVID, without having an event in 2020, we knew we wanted to do something really great in 2021." 
The Emerald Cup Harvest Ball is that great something.
The Road to Emerald Cup Harvest Ball
We're all going to go to the Emerald Cup Harvest Ball and will have the time of our lives. But it's important to know that it didn't come without blood, sweat, and tears. 
The road to Emerald Cup Harvest Ball started long ago with the first ever event, has passed through a series of location changes, gone through COVID shutdowns, and even takes on the future extinction of sungrown cannabis brands that have made the event and culture what it shines as today. 
"Moving from the Emerald Triangle to Sonoma County and learning how to put on a show for 30,000 people, rather than 1500. There were a lot of challenges in learning the ropes there," Tim says. 
In addition to learning to host an event of Emerald Cup's magnitude, the EC team has always faced issues with booking artists at the most inopportune time of the year. 
Taylor Blake, the event's associate producer, says, "To secure touring acts in a December timeline with where our event traditionally happens can be a little bit challenging because musicians aren't touring during that time." 
Past the logistics of putting on the event, one of the truest hardships along the way has been for the small outdoor cannabis brands who hold both the event and plant so dear in their heart. With the supply/demand issues in the industry, many of these growers will soon fall off the face of the earth. 
"Basically, you've had seven to eight million pounds of legal cannabis grown in California this year. And you've had a million or or two sneak down from Oregon. So you've got eight or nine million pounds here, and only three and a half million pounds are going to sell. Only the [Triple-A grade cannabis] fire is selling, so everybody that doesn't have Triple-A is not going to be able to sell their cannabis. That means they're not going to be able to pay their trimmers, their bills, their taxes, and they're going to go bankrupt," Tim says. 
"It's been a very challenging time [for small farmers] because the way they opened up large scale farming in California really crushed small farmers and legacy brands. We're looking at over 50 percent of the small farmers and legacy brands not making it. With that in mind, we created a Small Farmers Initiative where we donated 27 booths to farmers in need, and also product makers."
With such hardships along the way for everyone involved, it's imperative that we all come together to celebrate what cannabis is truly about: healing and community. 
After almost two years of COVID taking us away from each other, Emerald Cup Harvest Ball is shaping up to be one of the most connective events the cannabis industry has ever seen. 
"This year, we know we'll get 15,000, but hopefully it's closer to 20,000," Taylor says. "It's going to be a good show, good for the consumers, good for everybody, good for the community."
Need a little more Bluntness in your life? Sign Up for our newsletter to stay in the loop.