BLUNTNESS/100: Cannabis Entertainer Honorees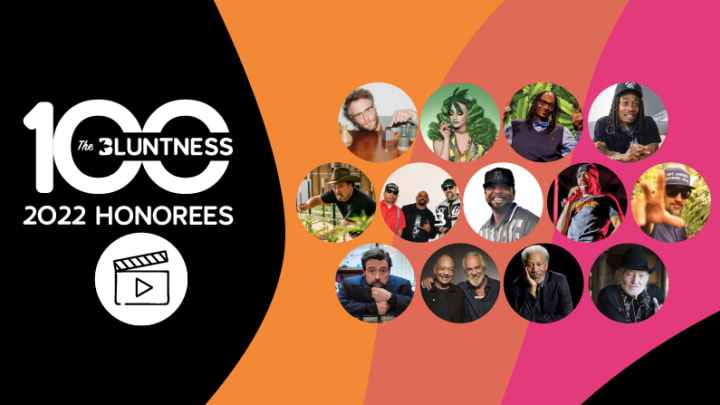 Who are your favorite weed celebrities? /
Weed-loving celebrities are a big part of cannabis culture, and they are also living proof that the herb doesn't automatically make a person lazy.
In this segment of the BLUNTNESS/100, we highlight several of our favorite entertainers who share an affinity for the plant. The resulting list indeed makes for an interesting cultural cross-spectrum.
1.

Seth Rogen

Could Seth Rogen potentially be Hollywood's most hard-working stoner? Maybe.

The actor, producer, and writer puts out a lot of funny movies (and even a recent book).

He's also quite outspoken about his love for weed.

And we'd be remiss if we didn't mention his weed company Houseplant.

Rogen along with his creative partner Evan Goldberg essentially redefined stoner comedy in the 21st century.
2.

Laganja Estranja

Drag performer Laganja Estranja has never been shy about her plant advocacy – in fact, she's made it a huge part of her brand.

With experience performing on RuPaul's Drag Race, Heidi Klum's Queen of Drags, So You Think You Can Dance, and much more, the Texas native has always been inspired to push herself creatively with the aid of cannabis.

Today, Estranja proudly shares about her experiences with the plant: incorporating it into her clothing line, gracing the cover of Dope, and working on her recent music video, "Poison Ivy," which made "ganja" the center of the conversation last Halloween.
3.

Snoop Dogg

Snoop Dogg has long been synonymous with weed. And he continues to up the game.

In addition to his own cannabis-centric media company, he's also co-founder of the investment fund Casa Verde Capital with its growing portfolio of cannabis ventures.

According to Politico, Snoop even persuaded the billionaire right-winger Charles Koch to back a federal marijuana legalization coalition.
4.

Wiz Khalifa

Wiz Khalifa has advocated for cannabis just as long as he's been rapping.

In 2022 he officially launched his weed brand Khalifa Kush through a partnership with Cookies.

With plans to expand from California into Michigan, Pennsylvania, and Florida over the coming months, Khalifa's hard work here will no doubt pay off.

"Khalifa Kush is definitely still my favorite strain, especially throughout this whole project. We've gone through a lot of testing and naming of different strains," he recently told Forbes.

"But I always end up going back to Khalifa Kush, it's just my favorite one, it feels the best. It gets me the highest, it's a clean high.
5.

Jim Belushi

Why mess with acting when you can work on your own cannabis farm? That's exactly what Jim Belushi is doing through Belushi's Farm.

"Every time I cultivate the land, I get pulled more and more into the medicine and the joy of this work," Belushi says.

In addition to chronicling cannabis farm life through his show Growing Belushi on the Discovery Channel, Belushi is also a staunch advocate for cannabis freedom.

In fact, in a recent appearance on Late Night with Seth Meyers, Belushi did not mince words:

"[These prisoners] were the pioneers for the cannabis industry. They're the ones that took the arrows, they're the ones that went to jail for nonviolent cannabis crimes. Whether they had an ounce or three pounds on them, they were trying to make a living for their family," Belushi said on the talk show.

"When they get thrown into prison, it collapses that family, creating more trauma. There are 40,000 men and women incarcerated right now for nonviolent cannabis crimes."
6.

Cypress Hill

Formed in 1988, Cypress Hill had a major impact on West Coast hip hop throughout the '90s. Each member of the group is an advocate for cannabis freedom, a fact that was reiterated in late 2021 when they dropped the "Open Ya Mind" single.

Lyrics from the single ring all too true in 2022:

How this the land of the free? They want us all in a cage
They tryna lock me away, they found some pounds in my safe
Feds surrounding my place, the warrants all in my face
Damn I thought this shit was legal, boy, that's just not the case
Now I'm fighting a case, but the laws in the state
Ain't the same as the federal, so now these charges hold weight
Got me stressin', shit depressin', couple miles away
At the dispensary they sellin' weed every day
7.

Method Man

Rapper, songwriter, producer, actor – isn't weed supposed to make people lazy?

Method Man first tasted fame as a member of Wu-Tang Clan on the East Coast, and the fame continued to grow with more music and prominent movie roles – including the classic film How High.

And now Method Man is preparing to share his love for weed with New York through his cannabis brand TICAL, which stands for Taking Into Consideration All Lives.

While an extremely apropos name for a cannabis brand in today's market, TICAL was also the name of Method Man's first solo album.

TICAL is already available in Colorado if you can't wait for the New York roll-out.

"I'm absolutely thrilled at the prospect of bringing TICAL to New York's newly legalized adult-use market in 2022. Our team has worked long and hard to bring the same energy, creativity and equity to this brand that I have to everything I have done throughout my career," Method Man said in a statement.

"I'm particularly excited about TICAL's focus and leadership in the cannabis space in working with Black, Women and Minority-owned partners from cultivation to dispensaries."
8.

B-Real

Yeah, we already mentioned Cypress Hill, but B-Real aka Dr. Greenthumb deserves his own entry here.

Founder of Dr. Greenthumb Dispensaries in California, B-Real has carved out his own niche in the cannabis world.

B-Real's high-profile contributions here are important because he brings an authentic voice to cannabis.

"But we need the whole country to get down with this. It would be good for the country, economically it would create jobs and it would do a whole lot of healing," he said in an interview with HipHopDX.

"I see it happening. When you got places like Florida, that are now embracing cannabis, New York and places like that, that's fucking incredible. You're seeing it slowly but surely. I think eventually federally it'll be completely legal and maybe inside of 10 years. Hopefully five. We'll see. Salute to the freedom fighters, as we called them once, that put in the work to get us where we are now."

9.

Kevin Smith

Kevin Smith is yet another one of those prolific mainstays, whose work defies the stoner stereotype.

The filmmaker, actor, comedian, comic book writer, author, and podcaster started chipping away at cannabis stigma with his work in the 1990s through his characters Jay & Silent Bob who first appeared in the film Clerks.

Since then, Jay & Silent Bob have appeared in their own stoner comedy features and even have their own cannabis strains.

What most people don't know is that Smith didn't actually start smoking up until he was 38.

Since then, he's become quite the connoisseur.

In fact, when Smith suffered a heart attack a few years ago, his doctor said it was probably smoking weed that kept him calm and saved his life.

He went on to lose 85 pounds by cutting sugar out of his diet.
10.

Cheech & Chong

One would be hard-pressed to name a more famous cannabis duo than Cheech Marin and Tommy Chong.

In the 1970s and '80s these two were a hit among cannabis and counterculture enthusiasts through their stand-up routines, albums, and films.

They set the high-water mark for stoner comedies and after a long hiatus eventually reunited in 2008.

In 2003, Chong ran into trouble with authorities for selling bongs and water pipes online. He spent nine months in a low security prison.

When Chong later revealed his battle with prostate cancer in 2012, he noted that he'd been drug free for three years and suggested the accompanying stress may have contributed to the problem.

A month later Chong announced that he effectively used hemp oil to knock out the cancer. And in 2015, Chong shared with the public that he'd been diagnosed with colorectal cancer and had been using lots of cannabis to help with the side effects of conventional treatment.

In 2019, Chong said that he was cancer free and again emphasized that stress may have been the cause of the cancer.
11.

Morgan Freeman

Morgan Freeman is one of the greatest, most respected actors of all time.

In 2015, when most pot-loving actors were still afraid to share their affinity for the plant, Freeman came out in defense of the cannabis, saying it should be legalized and that it is much safer than alcohol.

He told the Daily Beast that his first wife got him into the plant years ago and that he uses it for fibromyalgia pain.

"How do I take it? However it comes! I'll eat it, drink it, smoke it, snort it!"

(editor's note: please don't snort your weed)
12.

Willie Nelson

Willie Nelson has definitely earned his spot as country music's most well-known toker – the singer even has his own line of cannabis, Willie's Reserve. Nelson is the only person who's ever been able to out-smoke Snoop Dogg, which is a cannabis badge of honor in itself. 

Cannabis has been his drug of choice since 1978, when Nelson gave up cigarettes and whiskey due to health complications. He's been consuming cannabis ever since.

Lighting up with Nelson is recognized as the rite of passage it is, bestowed upon only the worthiest in country music.

Need a little more Bluntness in your life? Subscribe to the weekly newsletter to stay in the loop.