BLUNTNESS/100: Healthcare and Science Honorees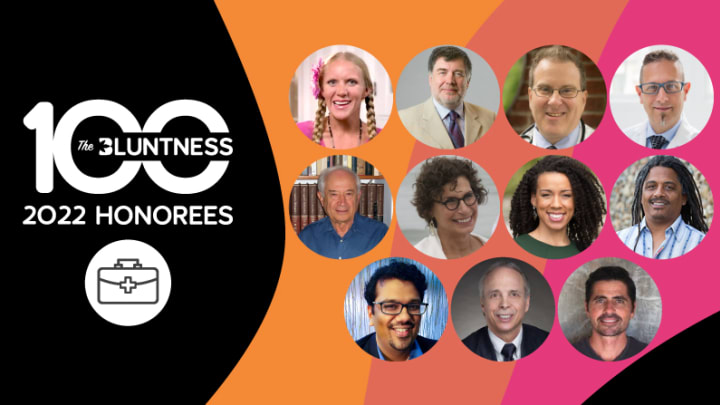 Meet some of our favorite people in cannabis healthcare and science! /
Healthcare and science compromise some of the most important areas in cannabis today.
From patient care at the clinical level, to plant research, product innovation, and more – where would cannabis be today without these amazing people?
Please note: this list of 11 people appears in no particular order. And it is far from exhaustive. In fact, it was extremely difficult to select just 11 people!
Without further ado, here are the 2022 healthcare and science honorees for The BLUNTNESS/100.
1.

Heather Manus, RN

Nurse Heather has impacted countless lives, specializing in all aspects of medical cannabis care, as well as other natural healing modalities and herbal remedies – wisdom she acquired from her close association with Hispanic and Native American healers in New Mexico.

As a founding member of the Cannabis Nurses Network and founder of the Arizona Cannabis Nurses Association, Nurse Heather has served as a tireless advocate for veterans and mental health, ensuring Arizona added PTSD as a qualifying condition for the state's medical cannabis program.

She's also a "Cannabis Nurse Entrepreneur." In New Mexico and Arizona, Nurse Heather opened the first licensed medical cannabis facilities to provide patients with smokeless products.

Now in California, Nurse Heather continues to add value with her years of knowledge and experience through her natural health company Nature Nurse.

Connect with Nurse Heather on LinkedIn and Instagram.
2.

Dr. Michael Barnes

In 2018, Dr. Michael Barnes became the first UK physician to successfully prescribe cannabis with government approval. His patient was the young Alfie Dingley, struggling with epilepsy until medical cannabis intervention.

Today, as a consultant neurologist and medical cannabis expert, Professor Barnes is leading the uphill battle for UK's medical cannabis efforts.

He currently serves as chair for the Cannabis Industry Council, chair for the Medical Cannabis Clinicians Society, while also co-directing Maple Tree Consultants with Hannah Deacon (mother of Alfie Dingley).

Barnes has also authored more than a dozen books and 100+ academic papers. You can check out his latest book, The Beginner's Guide to Medical Cannabis on Amazon.

You can follow Dr. Barnes on LinkedIn.
3.

Peter Grinspoon, MD

Dr. Peter Grinspoon has worked as a primary care doctor and medical cannabis specialist at Harvard Medical School for more than 25 years.

Son of the late Dr. Lester Grinspoon – who turned heads across the country with his 1971 book Marihuana Revisited – Peter has carried on the torch of cannabis science and freedom brilliantly.

In a 2021 interview with The Bluntness, Peter addressed the medical absurdity behind the whole war on drugs.

"Drugs are not a law enforcement issue. Law enforcement makes everything worse. If people get into trouble with drugs, it should be handled by doctors, nurses, social workers, public health officials, not by law enforcement," he said.

In his memoir Free Refills: A Doctor Confronts His Addiction, Peter boldly shared his own battle with addiction.

Connect with Peter Grinspoon, M.D. on LinkedIn.
4.

Jordan Tishler, MD

Cannabinoid specialist Dr. Jordan Tishler is the Harvard-trained physician behind the Massachusetts-based cannabis clinic inhaleMD.

The former emergency physician is also founder and president of the Association of Cannabinoid Specialists (ACS), which "ensures the highest standards in the practice of cannabis medicine, safeguards patient care with clinical best practices, and interfaces with other stakeholders in the cannabis community."

Whether educating people on the nuances of medical cannabis or serving patients at the clinical level, Tishler's advocacy-based mission is defined by quality and best practices.

"I am a staunch patient advocate. I educate lawmakers, business executives, and physicians about medical cannabis," Tishler says.

Connect with Dr. Tishler on LinkedIn.
5.

Professor Raphael Mechoulam

Raphael Mechoulam, professor at Hebrew University of Jerusalem, is rightfully considered the "father of cannabis research." His 60+ years of pharmacological cannabinoid research is second to none.

As a chemist, Mechoulam was the first to isolate the major compound in cannabis tetrahydrocannabinol (THC) in the 1960s and eventually went on to help discover the endocannabinoid system.

As of March 2022, Mechoulam is still working and there is much to be done.

In 2019, Mechoulam revealed his latest innovation, a family of synthesized cannabinoid acids derived from CBDA, which could have much stronger therapeutic effects than CBD with no side effects.

Connect with Raphael Mechoulam via LinkedIn.
6.

Mara Gordon

As co-founder of Aunt Zelda's, Octopi Wellness, and Zelira Therapeutics, Mara Gordon specializes in the development of medical cannabis treatment protocols for seriously ill patients.

Gordon and her team have worked with thousands of cancer patients, for example, and her experience as a cannabis pioneer has propelled her to the global stage, where she is a sought-after speaker and advisor.

Her work has been chronicled in documentaries such as "Weed the People," and the book Brave New Weed by Joe Dolce.

You can follow Mara Gordon on LinkedIn and Twitter.
7.

The Doctors Knox Family

Where would clinical cannabis be without this family of physicians?

Drs Janice, David, Rachel, and Jessica are all Cannabinoid Medicine Specialists and Endocannabinologists focused on healing, education, and revolutionary healthcare.

"Big medicine is a big bureaucracy and paradoxical to health," Rachel said during her 2019 talk at TEDxPortland, adding that when she realized this as a student, she almost walked away from medicine.

"But I found a family medicine program with an integrative medicine track, and that provided me a lens into ancient healing practices."

Herbal medicine, acupuncture, yoga, meditation, and more – all historical practices in ancient medicine. 

"This wasn't witchcraft or voodoo…these healers knew what worked, and they had sound theories as to why. They just lacked the science," Rachel said before diving into what we know about the endocannabinoid system today.

You can find the Doctors Knox online at their website.
8.

Reggie Gaudino, Ph.D.

Dr. Reggie Gaudino is an internationally recognized leader in cannabis genetics. He is currently the VP of Research and Development for Front Range Biosciences, overseeing the cannabis genetics and scientific research division.

Previously the President at Steep Hill – the first cannabis testing lab in the U.S. – Gaudino also has 18 years of experience in intellectual patent writing, as well as biotechnology among other sectors, all extremely relevant in the cannabis genetics field today.

Gaudino has published a number of landmark peer-reviewed studies in cannabis and continues to serve as a credible source pointing out critical misconceptions within the cannabis industry around the genetic expression of this amazing plant.

Find Dr. Reggie Gaudino on LinkedIn.
9.

Sunil Aggarwal, MD

Dr. Sunil Aggarwal is the Co-Founder and Director of the Advanced Integrative Medical Science Institute.

He is also a palliative physician, a professor, and he's the man who helped bring a psilocybin lawsuit against the DEA over Washington state's Right to Try law.

"There is a much older and deeper historical tradition of use of these [psychoactive] substances that provide a sense of awe, divinity, and ecstasy," Aggarwal told The Bluntness in 2021.

"We have records of this on cave paintings, ancient texts that mention these substances, carvings from Aztec and Mesoamerican regions."

Aggarwal explained how he would hear of terminally patients working with therapists on guided psilocybin sessions:

"And they would be these amazing, mystical experiences. Reverie, bliss, timelessness, ineffable senses of knowing, abiding senses of love...just very profound experiences with music, support, safety...and it just stays with them. It goes on for hours, and then it stays, and it stays, and it stays."

You can connect with Dr. Aggarwal via LinkedIn.
10.

Ethan Russo, MD

Although Dr. Ethan Russo is a board-certified neurologist, he has always held a strong interest toward medicinal plants.

In fact, Russo is internationally recognized as one of the top authorities in all things medical cannabis.

After spending 20 years in clinical neurology, Russo spent 11 years consulting with GW Pharmaceuticals developing prescription medicines from the cannabis plant.

In 2015, he further dialed in his focus on the endocannabinoid system with PHYTECS, while also serving as Director of Research and Development for the International Cannabis and Cannabinoids Institute.

Today, Russo works as founder and CEO of CReDO Science, where he hopes to "advance cannabis-based and botanical therapeutics via the development of optimized chemovars and extracts, as well as pursuing novel formulations and diagnostics related to the endocannabinoid system."

Find Dr. Russo on LinkedIn.
11.

Andreas Boeckl

The cannabis world has seen a lot of innovation over the past decade or so, however Andreas Boeckl's work with Sula out of Dispersa Labs is remarkable on several fronts.

Sula is the first dry powder inhaler (DPI) for cannabis – nothing like those pump spray aerosol inhalers. Sula allows consumers a safe, clean dose of cannabinoids without any smoke or vapor.

"With Sula we've engineered particles that contain cannabinoids, and then four other ingredients that are plant-based and have established histories of safe use in the lungs by regulators like the FDA," says Boeckl, President and CEO of Dispersa Labs and creator of Sula. "So we're not introducing anything new into the lung setting."

Because Sula allows for a fast-acting, repeatable dosing solution, it will also prove to be a game-changer for cannabis research, which currently relies on unreliable methods around smoking or vaping.

THC-rich Sula is currently only available in California, however, CBD-rich Sula is available worldwide.

Connect with Andreas Boeckl via LinkedIn.

Need a little more Bluntness in your life? Sign Up for our newsletter to stay in the loop.