BLUNTNESS/100: Cannabis Cultivation & Extraction Honorees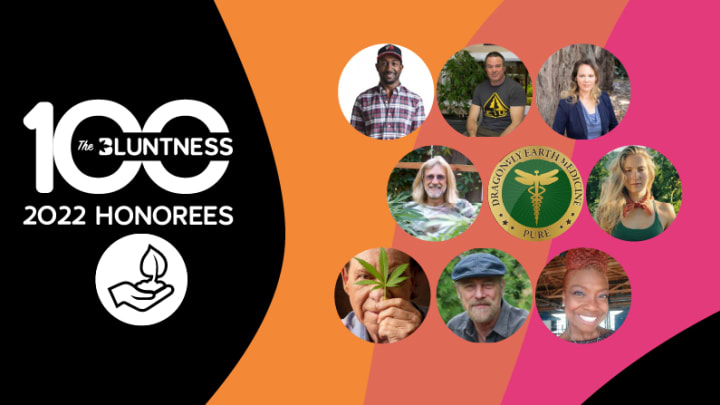 Let's give some love to these legendary cannabis cultivators. /
Quality cannabis is traced back to the cultivator and/or extractor every time, and in an oversaturated market, it's important for those in the cultivation space to be more intentional than ever about their method and desired outcome.
From the legacy market to today's legal industry, there are a wide array of experts who've fine-tuned cannabis cultivation and extraction, providing products that do wonders for every type of consumer's need. 
This THE BLUNTNESS/100 list rounds up some of the most widely-recognized cultivators and extractors in the space, and what makes them stand out amongst their competitors. These names appear in no particular order.
1.

Jesce Horton

LOWD CEO Jesce Horton founded the Portland-based cannabis production company in 2015 – just before cannabis was legalized for adult use in the state. 

Horton co-founded LOWD alongside Dave Murray. The two entrepreneurs were growing cannabis in their basements in the early 2000s during the medical cannabis revolution, and now they've taken that knowledge and experience to another level. 

Passionate about plant advocacy and industry equity, Horton was appointed by Oregon Governor Kate Brown to the Task Force for Cannabis Environmental Best Practices in 2016. He also sits on the Board of Directors for the Oregon Cannabis Business Association and the Oregon Cannabis Association.

To stay up to date on Horton and LOWD, follow him on LinkedIn, Twitter, or Instagram.
2.

Kevin Jodrey

Kevin Jodrey is one of the most well-known cannabis growers in Humboldt County. An internationally-respected cannabis cultivation expert, Jodrey is constantly chasing rare, desirable, and marketable traits in the strains he discovers.

The expert is credited with creating the hybrid Port Royal. He also owns Humboldt's Wonderland Nursery and co-founded Ganjier, a cannabis sommelier certification program for sophisticated consumers.  

In addition to his several cultivation-related business ventures within the industry, Jodrey regularly speaks in front of audiences about his expertise. He's also been a judge at the Emerald Cup and worked as a consultant for educational TV shows on cannabis.

You can follow Jodrey on LinkedIn or Instagram.
3.

Wendy Kornberg

Wendy Kornberg is a second-generation regenerative farmer living in Humboldt County. She is CEO and President at Sunnabis: Humboldt's Full Sun Farms, her family's farm that has utilized organic and natural farming methods for decades.

Kornberg also founded WKornberg Advising, where she provides her agricultural expertise to clients. She emphasizes sustainable farming, organic and KNF systems, and transitioning from industrial to regenerative growing methods.

Her work is widely respected in this sector of the industry, and Kornberg is regularly invited to speak, educate, and team build within the agricultural community. 

Keep up with Kornberg on LinkedIn or Instagram.
4.

Jorge Cervantes

Whether you know him as George Van Patten or as his nom de plume, Jorge Cervantes is one of the most well-known and widely-respected experts on the cultivation of medical cannabis.

The horticulturist, writer, and publisher has written extensively on his knowledge and experience in the industry, penning hits like The Cannabis Encyclopedia; The Definitive Guide to Cultivation and Consumption of Medical Marijuana; Marijuana Indoors: Five Easy Gardens; Marijuana Horticulture: The Indoor/Outdoor Medical Grower's Bible; and much more. 

The Oregon native was working in a press room by the age of 16, and as his media skills developed, so did his knowledge about the plant and all of its potential benefits. 

Cervantes has since married the two passions, providing the industry with much-needed information on the most important piece of the cannabis supply chain: cultivation.

Follow Cervantes on LinkedIn, Instagram, or Twitter.
5.

Dragonfly Earth Medicine

Dragonfly Farm is a family-owned cannabis farm completely dedicated to regeneration. The team has one ultimate goal in common at all times: the healing and health of the earth and its humans.

Dragonfly Earth Medicine (DEM) has been in the agricultural industry for over 20 years, earning them a deep knowledge of plants and exactly how they have to connect with the earth in order to really blossom.

Today, the offer a wide variety of products to their customers, like medicinal mushroom powder, hemp, mushroom cocoa, plant-based natural additives, herbs, and more.

You can keep up with DEM on Instagram and Facebook.
6.

Julia Jacobson

Julia Jacobson is the co-founder and CEO of Aster Farms, a sustainably-focused cannabis brand born from three generations of living soil cannabis cultivation. 

Jacobson founded Aster Farms alongside her husband, Sam Campodonico-Ludwig, because they wanted to see a cannabis brand that reflected the kind of consumers they are: conscious consumers. 

"[My husband and I] care about what we put in our body. We care about the companies we spend our money on, and we really wanted to see that translated into the cannabis industry," Jacobson told The Bluntness.

Prior to founding Aster Farms, Jacobson didn't have much experience with cannabis beyond being a consumer, but she came with a wealth of knowledge from the tech, retail, and supply chain economics worlds. 

Campodonico-Ludwig also didn't have much professional cannabis experience at the time, but his family did. With over 50 years of experience in legacy cultivation, his family's legacy provided them with the knowledge they needed to kick things off.

Follow updates from Jacobson and Aster Farms on LinkedIn, Instagram, or Twitter.
7.

Ed Rosenthal

Ed Rosenthal is considered one of the OGs of cannabis cultivation. The American horticulturist, publisher, and author has an extensive knowledge of the plant, and is most well-known for his fierce legalization advocacy.

Rosenthal served as a columnist at High Times Magazine during the 1980s and '90s, offering advice and candid experience to interested cultivators throughout the country. 

He also worked very closely with California's state and local governments during the passage of Prop 215, helping to get the ball rolling on the delivery of cannabis to medical patients throughout the state. 

Just six years later, Rosenthal was arrested for cannabis cultivation, although his conviction was overturned. 

Today, he regularly blogs about his experiences in cannabis cultivation, sharing helpful tips, things to avoid, and fascinating anecdotes for any reader.

You can follow Rosenthal on Facebook, LinkedIn, Instagram, or Twitter.
8.

Mel Frank

Mel Frank – a.k.a., James J. Goodwin – is a botanist, as well as a cannabis cultivation photographer and author. 

Frank has written extensively on his experience with the plant's roots, and his nug photography is both aesthetically stunning and scientifically fascinating to pore over.

Today, Frank offers his services as a consultant to the industry, sharing his insights as a long-time grower and breeder from cannabis's legacy days. 

You can follow Frank on Instagram or LinkedIn.
9.

The Dank Duchess

The Dank Duchess is an international cannabis consultant, cultivator, and public speaker whose "niche is hashish."

Duchess has over 18 years of professional cultivation experience under her belt, including personal training from Hash Master Frenchy Cannoli. Today, she has fully dedicated her career to educating people on high-quality cannabis and hashish through print, film, and social media. 

"Growing is for everybody. One of the things that's nice about growing is that it allows you to have this relationship with the medicine you're going to be consuming," Duchess told The Bluntness.

Follow Duchess on Instagram, LinkedIn, or Twitter.

Need a little more Bluntness in your life? Subscribe to the weekly newsletter to stay in the loop.