BLUNTNESS/100: Advocacy Honorees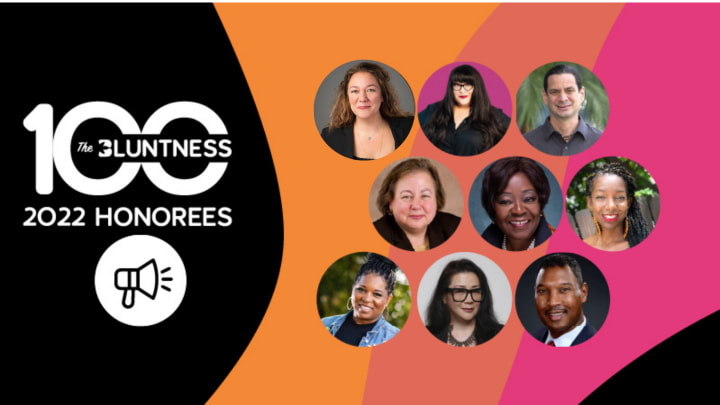 Sensible cannabis laws start with strong advocacy. /
Cannabis advocates play a critical role in the advancement of cannabis freedom.
As legal cannabis continues to evolve, advocacy is even more important if we want to build an industry that is sustainable yet mindful of human rights and the atrocities of prohibition.
This segment of The BLUNTNESS/100 highlights – in no particular order – different advocates from around the space with varying levels of focus and experience.
This list is by no means exhaustive! For every advocate listed here, there are many more doing awesome work.
1.

Steph Sherer

Steph Sherer is one of the world's leading advocates for medical cannabis. In 2002, she founded Americans for Safe Access (ASA), the largest membership-based organization in the U.S. for patients, medical professionals, scientists, and concerned citizens.

For 20 years, Sherer has worked with lawmakers across the U.S. to shape better medical cannabis legislation.

She also works to strengthen the cannabis industry itself, creating medical cannabis standards for a better, safer industry.

Additionally, Sherer is a founding member of International Medical Cannabis Patients Coalition (IMCPC), as well as co-founder of the International Cannabis and Cannabinoids Institute (ICCI).

Connect with Steph Sherer via Facebook or LinkedIn.
2.

Christine De La Rosa

What makes Christine De La Rosa one of the most influential women in cannabis?

As CEO & co-founder of The People's Ecosystem, De La Rosa is a vibrant voice for all the legacy cannabis operators sidelined and marginalized by Big Cannabis.

De La Rosa, who sits on the NCIA's Diversity, Equity and Inclusion Committee and is the committee chair of the DEIC Integration Committee, is particularly vocal about the failings of social equity and the need for legacy amnesty.

In 2021, De La Rosa talked to The Bluntness about how the lack of industry support to onboard legacy operators has caused more harm than good.

"That's why we see this huge number disparity. $20 billion of revenue in 2020 in the legal market, and $60 billion in the informal market," De La Rosa said. "Why is that? Because we weren't able to bring a lot of our legacy operators into the formal market."

To stay in the loop, follow Christine De La Rosa on Instagram, Twitter, and LinkedIn.
3.

Paul Armentano

For more than two decades, Paul Armentano has tirelessly worked on the advancement of cannabis policy.  He is Deputy Director of National Organization for the Reform of Marijuana Laws (NORML), Chair of Science at Oaksterdam University, and a prolific writer on cannabis and cannabis policy.

In addition to countless articles, Armentano co-authored the book Marijuana is Safer: So Why Are We Driving People to Drink? and is also the author of The Citizen's Guide to State-By-State Marijuana Laws.

When the U.S. House of Reps recently passed a medical cannabis research bill, Armentano issued a statement with his trademark clarity:

"These common-sense regulatory changes are necessary and long overdue. Currently, the limited variety of cannabis cultivars accessible to federally licensed researchers does not represent the type or quality of cannabis products currently available in legal, statewide markets. The reality that nearly one-half of U.S. adults have legal access to this multitude of cannabis products, but our nation's top scientists do not, is the height of absurdity and it is an indictment of the current system."

Follow Paul Armentano on Facebook.
4.

Sen. Liz Krueger & Rep. Crystal Peoples-Stokes

New York State Sen. Liz Krueger and Representative Crystal Peoples-Stokes are not hardcore cannabis advocates like other people on this list.

However, they worked for years to actualize adult-use cannabis in New York.

In 2021, they finally did it with the Marihuana Regulation & Taxation Act (MRTA).

Legal cannabis in New York is a big deal, and as we wait to see how their adult-use industry takes shape, there's a lot of pressure to get it right.

"I can guarantee you we got some things wrong, and like other states who have gone down this road, we will make adjustments and amendments as we see that something isn't working correctly," Krueger told The Bluntness in 2021. 

"It never bothers me to recognize that, okay, you tried to do something big? There's a decent chance you don't get it completely right the first time out. But that's why democracy exists – to be dynamic and to change with how things are needed."

To follow updates on Senator Kruger, follow her on Instagram, Facebook, and Twitter.  

For updates on Assemblywoman Peoples-Stokes, follow her on Instagram, Facebook, and Twitter.
5.

Edmund DeVeaux

As President of the New Jersey Cannabusiness Association (NJCBA), Edmund DeVeaux's role will only continue to grow as The Garden State nears its adult-use industry role out.

But what exactly makes him an important advocate of the plant? The answer to that question is why he agreed to get involved with cannabis in the first place: to make sure legalization is done right.

"We have to be able to pivot all the stuff that we missed over the last 80 years and right the wrongs of a social justice system that was skewed, and actually intent on damaging lives and damaging communities," DeVeaux told The Bluntness. 

"We now get to pivot and create commerce and industry that is suitable for people who were wronged in the past and can actually go forward."

Connect with Ed DeVeaux via LinkedIn.
6.

Niambe McInTosh

Legendary musician Peter Tosh was one of the greatest cannabis advocates in the 20th century, a passion for which he paid dearly.

Today his daughter Niambe McIntosh his carrying the torch forward as head of the Peter Tosh Estate and Brand and the Peter Tosh Foundation, which focuses on legalization, social justice, cannabis education, as well as the Peter Tosh Museum.

When McIntosh's brother Jawara lost his life to the war on cannabis, the outright tragedy only hardened her resolve, her mission toward cannabis freedom.

She shares these painful stories, the loss of her brother and her father's regular beatings by Jamaican police, "so that no other family can have to go through what we've gone through, and so that people can understand when we look at ways to support those that have been impacted by the war on drugs, it can't just be one or two people getting into the cannabis industry," McIntosh told The Bluntness. 

"It really has to look like reparations within the Black community; it has to look like programming for children; it has to look like therapy; we have to think way outside of the box to really right the wrongs and start to heal from the damage that has been done."

Connect with Niambe McIntosh on Instagram, Facebook, Twitter, and LinkedIn.
7.

Roz McCarthy

As founder and CEO at Minorities for Medical Marijuana, Roz McCarthy is one of the medical cannabis world's most influential people.

"Our focus is advocacy, outreach, education, and public policy. Any one of our core areas of focus where there's a policy conversation going on, M4MM wants to be a part of that conversation, and it doesn't always have to be something on social equity," McCarthy recently told Cannabis Business Times.

"Policy issues such as access to care, workplace protection for employees who utilize medical cannabis, and veteran services are examples of issues we are also passionate about." 

McCarthy has also lectured at law schools and collaborated with legislators at every level to ensure sensible, inclusive cannabis policy, rules, and regulations.

She is also CEO of Black Buddha Cannabis, "an environmentally conscious and social impact driven cannabis company focused on creating lifestyle and wellness products for the global market."

You can follow Roz McCarthy on LinkedIn and Instagram.
8.

Ophelia Chong

Ophelia Chong is a creative force in the world of cannabis advocacy.

One of her greatest contributions was founding Asian Americans for Cannabis Education (AACE) in 2015, which "connects and empowers Asian communities to educate the public on cannabis issues, news, and policy affecting Asians worldwide."

Chong is also the founder behind Stock Pot Images in 2015, the go-to source for authentic imagery in cannabis, hemp, and psilocybin.

"I started AACE because I found my own people had issues as well, and propaganda that was not correct. It was all misinformation, and so I bring together APIs (Asian American and Pacific Islanders) to talk about cannabis, Chong told The Bluntness.

"And I started stock pot images to dispel the imagery that was being put out by large stock agencies that were racists or stereotyping."

Connect with Ophelia Chong via Twitter or LinkedIn.

Need a little more Bluntness in your life? Subscribe to the weekly newsletter to stay in the loop.