BLUNTNESS/100: Community Organization Honorees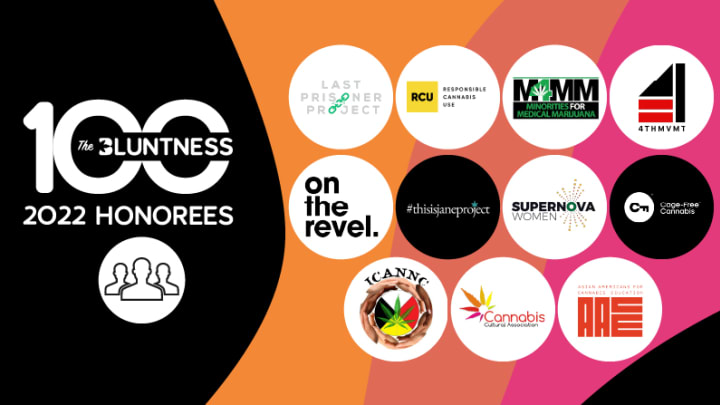 Check out some of the most inspiring community-based organizations in cannabis today. /
The cannabis industry is still far from operating on a level that is truly equitable, and while lawmakers continue to drag their feet on righting the wrongs of the country's War on Drugs, organizations within the plant's community have been doing the heavy lifting for decades.
This segment of The BLUNTNESS/100 aims to roundup some of the most notable organizations within the cannabis community who are dedicated to establishing a legal industry that is fair, effective, and enjoyable for everyone involved.
1.

Last Prisoner Project

Founded by Steve DeAngelo in 2019, The Last Prisoner Project (LPP) is one of the most widely-recognized cannabis organizations in the nation. The nonprofit believes no one should still be incarcerated for cannabis offenses and works hard to ensure that cannabis incarceration isn't part of the industry's future. 

The organization is made up of a team of industry leaders, advocates, policy and education experts, and leaders in social justice and drug policy reform. They provide incarceration release assistance, financial aid, and reentry resources for the released.

LPP is also devoted to conducting research around the plant, working closely with cannabis policy across the nation, and educating wherever they can.
2.

Responsible Cannabis Use

Toronto-based Responsible Cannabis Use (RCU) is all about education – something that is still sorely lacking throughout the industry and nation. The organization raises awareness around cannabis facts, laws, regulations, and research. 

The organization is represented by three products, which all aim to educate Canadians on how to responsibly consume cannabis:

● CannEd: an online cannabis learning course designed to educate employers and employees on cannabis use management in the workplace.

● Cann I Know: an educational platform that puts Canada's regional cannabis laws in one easy-to-find spot. Cann I Know features engaging content that allows viewers to really challenge their cannabis knowledge.

● Stori: a cannabis storage product designed for style and safety, elevating a consumer's storage experience both physically and digitally.
3.

Minorities for Medical Marijuana

Minorities for Medical Marijuana (M4MM) is an Orlando-based nonprofit organization that was founded in 2016.  

M4MM aims to provide advocacy, outreach, research, and training opportunities for the cannabis industry. The team is dedicated to cultivating inclusive industry environments that encourage diverse thoughts and experiences.

The nonprofit offers education programs for consumers, growers, and retailers; a business licensing boot camp; and assistance for those who've been negatively affected by the War on Drugs.

M4mm also regularly hosts in-person events to support the community, like their Expungement Resource Fair, which offers advice, support, and resources to anyone in need.
4.

4thMVMT

Cannabis organization 4thMVMT poses the question: Is the American Dream still alive? 

Focusing on communities who've been impacted by the War on Drugs and institutional racism, 4thMVMT invests in those who are interested in pursuing cannabis entrepreneurship but lacking the proper resources, network, and capital required to get started.

The organization recruits eligible candidates from Black and Latino communities, helps them develop personally and professionally, and introduces them to ownership opportunities that best suit their individual skills. 

The main goal for these individuals is viable long-term success in an ever-competitive industry, changing public perceptions and truly bringing equity to the industry along the way.
5.

on the revel.

Cannabis business on the revel. is "for the people" – a concept that begs to be salvaged in the expanding legal industry. 

The organization proclaims to be where industry meets culture, focusing on New York's legal market as it continues to develop and establish itself. 

Members can access livestreams of local cannabis policy updates, connect with other people in the industry, and have regular access to industry education, especially as it pertains to New York state. 

Their recent "revelry" quarterly gathering provided as much information as possible to entrepreneurs in need of obtaining a New York cannabis license.
6.

This is Jane Project

This is Jane Project is a nonprofit cannabis organization that supports women and nonbinary trauma survivors who have utilized the plant to heal. 

"Jane" is any self-identified woman or nonbinary person who turns to cannabis and other forms of plant medicine to process trauma, something that is still incredibly stigmatized to share openly.

The nonprofit offers programs for survivors without access to the plant, affordable physician recommendations, monthly "healing" happy hours, and quarterly trauma-informed Puff & Paint classes.

This is Jane Project is increasingly important in today's industry, which is finally beginning to realize the importance of mental health, and how closely connected that is to the plant.
7.

Supernova Women

Supernova Women is made up of a team of powerhouses in the cannabis industry, all dedicated to equity and expungement throughout the legal market. 

The California-based organization prides themselves for being dedicated boots on the ground, regularly hosting town hall meetings with government officials and cannabis policymakers and advocating for equity and justice for People of Color in the industry.

Supernova Women has succeeded in helping to develop the country's first social equity program in Oakland, running the nation's first paid cannabis workforce development program, and working to reduce taxes for small cannabis businesses and social equity operators.
8.

Cage-Free Cannabis

Cage-Free Cannabis is another organization dedicated to repairing the harm brought on communities of Color by the War on Drugs.  

The organization is rooted in three kinds of justice:

● Reparative: Cage-Free Cannabis coordinates expungement events to support those affected.

● Economic: Cage-Free Cannabis creates jobs for social equity operators and consistently advocates for equity.

● Environmental: Cage-Free Cannabis supports and promotes an industry that is entirely sustainable.

Cage-Free Cannabis offers brands direct assistance that addresses all of these pillars, helping them develop responsibly, sustainably, and as diverse as possible.
9.

Indigenous Cannabis Coalition

Indigenous Cannabis Coalition (ICANNC) is quite unique in its representation of Indigenous cannabis culture – something that has been largely glossed over by today's industry. 

Founded by cannabis advocate Mary Jane Oatman, ICANNC's mission is to provide education to and for Indigenous communities, elevating their economies and promoting their traditional and spiritual approach to the plant.

The organization accomplishes this through their publication THC Magazine, the Smoke Signals Podcast, and various events and gatherings that celebrate tribal life and explore how cannabis has always fit into it.
10.

Cannabis Cultural Association

Co-founded by Nelson Guerrero and Jake Plowden, the Cannabis Cultural Association is a 501C3 nonprofit organization that provides resources for disenfranchised communities who need help getting into the legal industry. 

Growing up in Harlem and Brooklyn, Plowden was a firsthand witness to how the War on Drugs affected Black and Brown communities in the region, while Guerrero witnessed how stigmatized the plant was in his traditional Latino family.

The organization hosts events and workshops for educational purposes, offers assistance for medical cannabis program applications in the tri-state area, and provides resources for those in need of expungement.
11.

Asian Americans for Cannabis Education

Asian Americans for Cannabis Education (AACE) works to connect and empower Asian communities, breaking down cannabis news, issues, and changing policies that affect Asian people around the world. 

The AACE was founded by Ophelia Chong, an actress, photographer, and marketing expert.

The organization's members enjoy networking opportunities, social media connections, and resources for self-education. The AACE also shares studies, research, and interviews with Asian Americans in the cannabis space. 
 
Cannabis has been stigmatized in many Asian communities, and the AACE aims to reduce this stigma and empower Asian Americans to make a positive difference in the cannabis community.

Need a little more Bluntness in your life? Sign Up for our newsletter to stay in the loop.