BLUNTNESS/100: Cannabis Athlete Honorees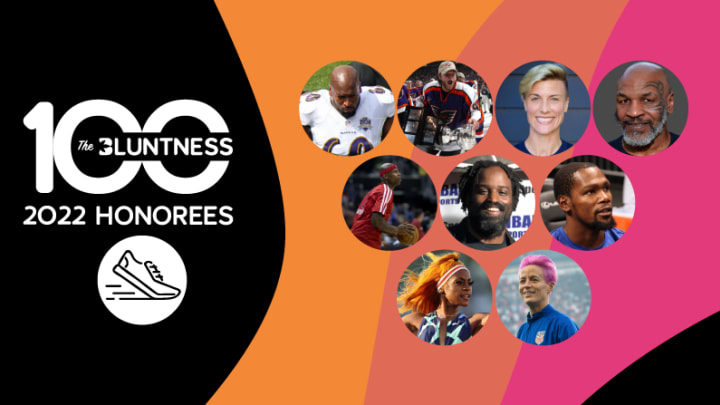 Athletes of all levels play a crucial role in normalizing the therapeutic use of cannabis. /
Cannabis has a wide variety of healing properties, from mental to physical, and for athletes putting a consistent strain on their bodies, the plant acts as a powerful form of organic relief.
Despite conflicting cannabis restrictions and bans in the sports world, athletes regularly utilize the plant for their benefit, and some have taken it a step further by advocating for cannabis on their massive platforms and getting involved in the industry.
This The BLUNTNESS/100 roundup features nine of the most notable athletes making waves in the cannabis and fitness industries at the same time, in no particular order. 
1.

Eugene Monroe

Former Ravens offensive tackle Eugene Monroe became the first active NFL player to openly advocate for the use of cannabis in 2016. Since then, he's been incredibly vocal about his dedication to the plant, regularly calling for the NFL to change their drug policy.

Beyond advocating for cannabis to be removed from the NFL's banned substances list and for the national organization to fund medical cannabis research – especially as it relates to contact sports – Monroe is passionately against opioids and the negative effect they've had on the professional sports community.

The former pro athlete uses his platform to share information about opioid addiction, and how cannabis can act as a safer and less addictive alternative to opioid dependence. 

"I've sustained many injuries in my career, most of which were paired with a prescription opioid. As a football player, I know that I signed up to play one of the most physically demanding sports on the planet," Monroe writes of opioids on his website. 

"And yes, I love this game. However, we aren't warned that the inherent physicality of the game could coincide with life-threatening treatment options."

The cannabis advocate is just as passionate about social equity in the industry as he is about justice for athletes using cannabis, and he also uses his platform to uplift BIPOC operators as much as possible. 

Monroe is the founder and CEO of Heart Community Capital, a group of professional athletes, social activists, philanthropists, coaches, creatives, and cannabis industry experts who work together to build Black- and Brown-owned cannabis companies.

To stay up to date on Monroe's progress in the cannabis industry, follow him on LinkedIn, Instagram, or Twitter.
2.

Riley Cote

Canadian former professional ice hockey left winger Riley Cote played four NHL seasons with the Philadelphia Flyers. 

After he retired from professional hockey in 2010, Cote founded Hemp Heals Foundation, a nonprofit organization that spread education and awareness around the healing properties of cannabis and hemp. 

He also co-founded Bodychek Wellness, a brand that specializes in organically-grown hemp-derived CBD extracts and functional mushrooms blends that help reduce inflammation, increase recovery time, and optimize performance. 

After leaving the NHL, Cote dove into holistic healing and alternative medicine, determined to approach his wellness from a more organic and natural place. 

He studied a variety of philosophies on nutrition, exercise, plant medicine, and general wellness, eventually deciding to take his cannabis advocacy to a full-time level.

To stay updated on Cote's latest ventures in the cannabis industry, follow him on Twitter or Instagram.
3.

Anna Symonds

Former rugby player Anna Symonds is a prolific CBD educator based in Kailua-Kona, Hawaii.

She has been in the cannabis industry for more than six years, advocating and educating on the benefits of cannabis, psychedelics, and entheogens for professional athletes and people in general.

Since 2017, Symonds has been a member of Athletes for CARE and now serves as a program manager at The Etheridge Foundation. Founded by Melissa Etheridge, the nonprofit organization supports new scientific research into the causes and effects of opioid addiction, while also providing education on alternative plant medicines. 

Symonds is also an ambassador for nonprofits Last Prisoner Project and the Concussion Legacy Foundation. 

You can follow Symonds on LinkedIn or Instagram.
4.

Mike Tyson

Few athletes are more well-known than former professional boxer Mike Tyson. Tyson dedicated 20 years of his life to the sport, constantly straining his body to achieve status as one of the greatest heavyweight boxers of all time.

After leaving the professional sports arena, Tyson got into cannabis, founding his self-named brand Tyson 2.0 for consumers to enjoy. 

The company aims to bring full-spectrum flower and concentrate products to people everywhere, based on Tyson's own life-changing experiences with the plant.

Tyson has utilized cannabis for years, relying on the plant to relax his body and focus his mind to consistently reach new heights in his boxing career. 

"Cannabis has always played an important role in my life. Cannabis has changed me for the good both mentally and physically, and I want to share that gift with others who are also seeking relief," Tyson wrote on the Tyson 2.0 website. 

Tyson 2.0 offers three lines of premium flower for every type of cannabis consumer, along with affordable one-ounce bags, pre-rolls, drinks, concentrates, and edibles – most notably their recently-released bitten-ear-shaped gummies. 

You can follow updates on Tyson and his business ventures within the cannabis industry and beyond on LinkedIn, Instagram, or Twitter.
5.

Al Harrington

Former professional basketball player Al Harrington is one of the most well-known names in the intersection of cannabis and sports.

An absolute cannabis trailblazer in the world of sports, Harrington was one of the first athletes to publicly tie his name to a cannabis brand when he launched Oregon-based VIOLA in 2011. He named the brand for his grandmother, who utilized the plant to ease symptoms of glaucoma.

As cannabis was still largely illegal save for medical use at the time of founding, VIOLA initially catered to the medical cannabis community. It eventually expanded to include the adult-use market, and our neighbors up north in Canada.

The brand's ultimate aim is to elevate minority brands in the space, inching the community closer to equity one step at a time. 

To follow updates on Harrington, visit his LinkedIn, or follow VIOLA on Instagram.
6.

Ricky Williams

NFL veteran Ricky Williams played 11 professional football seasons before retiring and turning his attention to the cannabis industry.

His brand Highsman – a clever play on the Heisman Memorial Trophy for college football players, which Williams won in 1998 – brings a greatness mentality to the cannabis industry that elevates thought leadership centered around plant medicine and sports.

Highsman's products are organized by consumer intent: "Pregame" for energy, "Halftime" for increased focus, and "Postgame" for relaxation.

"As a brand, it's a real story. Every single person that is involved with sports and every single person that enjoys cannabis has had the same exact struggles that I've been through," Williams said in an interview. 

"I think the way I've gone through them and been successful is a compelling story that I think everyone can vibe with—[the idea] that, 'Wow, I can be myself and still be successful.' And I think that's something everyone can relate to."

Williams is also vocal about his cannabis advocacy within the NFL, constantly calling for the organization to remove cannabis from its list of banned substances.

The former football player is passionate about equality and expungement in the industry as well, prioritizing BIPOC operators and figuring out ways to continue elevating them in the legal market.

Connect with Williams and the Highsman brand on LinkedIn, Instagram, or Twitter.
7.

Kevin Durant

Brooklyn Nets veteran Kevin Durant is aiming to destigmatize cannabis for good through his ventures.

The cannabis advocate is heavily involved in the industry, including a partnership with Weedmaps and the founding of Thirty5 Ventures, a cannabis investment firm Durant started alongside sports manager and businessman Rich Kleiman.

The duo is incredibly active in the investment side of cannabis, using their platform to change public perceptions of cannabis with the hope to destigmatize it for good, particularly for professional athletes in need of a natural form of relief.

Durant's involvement in the industry comes at a crucial point in time, as adult-use cannabis was legalized in New York just last year and the East Coast market is beginning to establish itself and its approach to the industry.

To follow Durant and his cannabis business ventures as they continue to develop in the budding region, connect with him on LinkedIn, Instagram, or Twitter.
8.

Sha'Carri Richardson

One of the most recent professional athletes to make massive waves in the cannabis space is Sha'Carri Richardson, a track and field sprinter who was suspended from the 2020 Tokyo Summer Olympic Games for testing positive for cannabis during the trial period.

This decision led to outcry from people around the world, who considered the suspension to be racially fueled – especially considering the fact that other Olympians have been vocal about their cannabis and/or CBD use without being scrutinized for it.

Richardson also claimed to have been using cannabis at the time for her mental health, as she was dealing with tremendous grief over the death of her mother.

Despite this heartbreaking detail, the U.S. Anti-Doping Agency (USADA) stuck to their decision. But although Richardson was unable to compete in the Olympics, this unfair consequence sparked discourse around the world.

As a result, the concept of cannabis and sports was normalized a tiny bit more, as people around the world were able to view Richardson's connection to the plant through a truly human lens.

Richardson hasn't gotten involved in the industry yet, but consider this our official plea for her to continue speaking on the topic and staying true to who she is, no matter what the lashback might be like.

To stay in the loop, follow Richardson on Twitter or Instagram.
9.

Megan Rapinoe

While Richardson was vilified for her cannabis use last summer, fellow Olympian and professional soccer star Megan Rapinoe has been vocal about her involvement in the industry, one of the few active pro athletes to do so.

Her focus is on CBD, a cannabinoid that has brought her relief from stress, insomnia, and pain throughout her career.

The soccer player serves as an ambassador for Oregon-based CBD brand Mendi, which aims to bring the power of hemp and cannabis medicine to highly active individuals around the world.

The brand was co-founded by former professional athlete Brett Schwager and Rapinoe's twin sister, Rachael, aiming to destigmatize healthy and natural alternatives for recovery relief. 

Connect with Rapinoe on Twitter or Instagram.

Need a little more Bluntness in your life? Sign Up for our newsletter to stay in the loop.