BLUNTNESS/100: Cannabis Influencer Honorees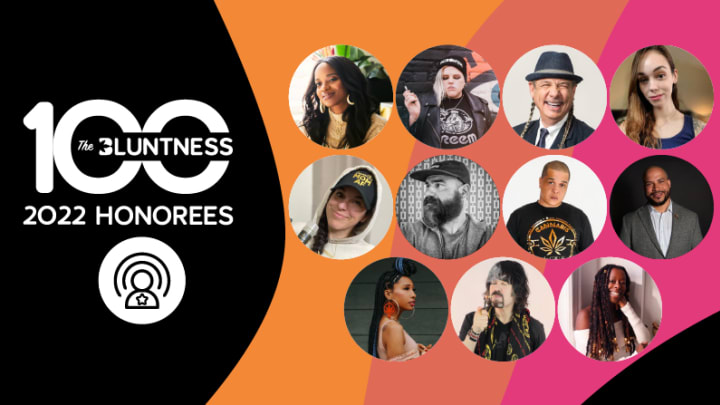 Just a few influencers rocking the cannabis world... /
In the digital age, social media influencers have an incredible amount of…well, influence, over their audience, and as cannabis continues to be a crucial part of the societal conversation, plant-focused influencers have an undeniably powerful effect on the way cannabis is perceived.
This roundup features some of the industry's most notable influencers, who regularly share their topline views on expungement issues that should have been addressed yesterday, new trends to watch out for, how to succeed in cannabis, the continued need for social equity, and much more.
Here are the 2022 social influencer honorees (in no particular order) for The BLUNTNESS/100.
1.

Mary Pryor

Cannaclusive co-founder Mary Pryor is easily one of the most influential media experts in the cannabis industry. Based in Los Angeles and New York, Pryor has a wide variety of experience in the music, automotive, electrical engineering, tech, and marketing sectors, and she's brought that expertise to innovate cannabis in an engaging way.



Cannaclusive was developed specifically to include marketing and business advocacy in the industry, with an emphasis on Black creators and examining the damage that has been done by the War on Drugs.



The organization intends to solve the inclusivity issue in cannabis, something Pryor remains incredibly passionate about and dedicated to in all of her work.



Follow Mary Pryor on Instagram.
2.

Ami Nicole

Ami Nicole – more commonly known as "ACRONYM" – is a multidimensional creative force in the cannabis industry.



Nicole is a true jack of all trades, with experience in photography, journalism, directing, event planning, art curation, and fashion design.



The creative expert first brought her wide array of experience to the cannabis industry in 2016, when she began photographing content for brands and penning articles for major cannabis publications.



"Given the pandemic, I've seen first-hand that I made the right decision by being adaptable," Nicole told The Bluntness.



"ACRONYM is my creative headspace, and it's become my name..because people know me as this one-stop-shop of so many talents."



Follow ACRONYM on Instagram.
3.

Steve DeAngelo

If you're familiar with the cannabis industry, chances are you've heard the name Steve DeAngelo before.

Christened the "Father of the Legal Cannabis Industry" by former Speaker of the California Assembly and Mayor of San Francisco Willie L. Brown, Jr., DeAngelo has both hands in the progress and innovation of cannabis throughout the U.S.

He founded Last Prisoner Project, an organization dedicated to expunging those of cannabis crimes and reimagining the country's drug policy, and he is the host of Radio Free Cannabis, the "voice of the global cannabis freedom movement."

DeAngelo also co-founded Harborside, one of the first six dispensaries to be legally licensed in the U.S.; Steep Hill Laboratory, the world's first cannabis analytics company; and Arcview Group, the first cannabis investment network.

But wait – there's more.

DeAngelo also authored The Cannabis Manifesto, which examines the plant as a "paradigm for wellness," and played a significant role in the passage of both Washington D.C.'s medical cannabis law and California's Prop 64, which legalized adult use for the state.

Follow Steve DeAngelo on Instagram.
4.

Jessica Kent

Social media influencer Jessica Kent focuses on the industry's need for expungement and the ultimate release of prisoners who are currently incarcerated for cannabis-related crimes.

A formerly-incarcerated woman herself, Kent has dedicated her platform to sharing her experience, from struggling with addiction for almost a decade to giving birth behind bars.

Kent has spoken on TEDX and regularly posts on Instagram, TikTok, and YouTube, sharing her own story as well as highlighting the personal cannabis journeys of featured guests.

The influencer is a true conversation starter, bringing topics that have been stigmatized within an already-stigmatized industry to the surface.

Follow Jessica Kent on Instagram.
5.

Bianca Snyder

Bianca Snyder is a self-described "sales and marketing maven" who moved from the wine and spirits industry to cannabis, where she inspires and normalizes moms who consume the plant.

Snyder is an advocate for moms and women in general, regularly sharing information pertaining to cannabis wellness and women's health and how people around the world can make the plant work in their favor.

Snyder founded High Society Mama, a brand that seeks to normalize cannabis for mothers. She also recently launched Society's Plant – a hemp brand offering small batch flower – alongside husband Tad Snyder.

Follow High Society Mama on Instagram.
6.

Addison DeMoura

Based in Oakland, Addison DeMoura is the Chief Business Development Officer at Steep Hill Laboratory, the world's leading cannabis science and technology company.

DeMoura co-founded the lab alongside Steve DeAngelo, and the fellow pioneer also has an incredible influence over the cannabis community.

He regularly shares his work, his personal consumption, and facts about cannabis and wellness on social media. With over 23 years of experience in the industry, it's DeMoura's ultimate goal to legalize and provide cannabis to as many people in need as possible.

Steep Hill allows him to accomplish that goal, as the team works to ensure consumers are purchasing safe and healthy product every time.

Follow Addison DeMoura on Instagram.
7.

Hazey Taughtme

Hazey Taughtme is the founder and Editor-in-Chief of Black Cannabis Magazine, the first of its kind.

The publication aims to provide a clear understanding of the cannabis industry to its audience, with the ultimate goal of creating generational wealth for People of Color.

Taughtme ensures the magazine arms its readers with necessary and up-to-date cannabis information, while also sharing the cultural aspects that go hand in hand with the plant industry.

He was invited to the Rolling Stone Culture Council earlier this year, due to his contributions to cannabis media – giving voices to minority operators in a white male-dominated market.

Follow Hazey Taughtme on Instagram.
8.

Vlad Bautista

Born and raised in New York City, Vlad Bautista is the co-founder and Chief Executive Officer at Happy Munkey, the City's mecca for New York cannabis culture.

The brand considers itself the heart of New York cannabis, taking their tribe of advocates from the "suites to the Streets of NYC and beyond."

Happy Munkey regularly engages with their followers on social media, posting about upcoming local events, changes in New York cannabis legislature, and general brand updates.

Follow Vlad Bautista on Instagram.
9.

Lizzy Jeff

Lizzy Jeff, known as the "Medicine Woman," is the creator of lifestyle brand Zen & Kush. 

Jeff utilizes the platform to share information about cannabis and sensuality, community healing and wellness, and general education on the science of the plant. She also hosts Zen & Kush music events and wellness workshops all over the country.

A "Rap Priestess" herself, Jeff examines cannabis from an artistic lens, empowering leaders in the industry and artists to align with their purpose under the creative aid of the plant.

Jeff also offers a mentorship program on a weekly basis, a private group meeting designed to help people activate their "personal liberation, sensual alchemy and entrepreneurial ascension in everyday life."

Follow Lizzy Jeff on Instagram.
10.

Josh Kesselman

Founder of RAW rolling papers Josh Kesselman is easily one of the most influential players in today's cannabis industry. RAWs are an absolute fixture in cannabis culture around the world – particularly in New York City, where Kesselman was raised."

Uplifting the world one beautiful natural sheet at a time," Kesselman has a tremendous social media following, with over 2 million followers on Instagram.

The influencer regularly shares his love for cannabis on Instagram Reels, constantly reiterating the industry's need to do good and give back in order to succeed.

Follow Josh Kesselman on Instagram.
11.

Solonje Burnett

A self-identified "weed auntie," Solonje Burnett is co-founder of cannabis lifestyle brand Humble Bloom.

Burnett is dedicated to giving underrepresented individuals in cannabis a seat at the table through advocacy, community organization, and the consistent spread of plant education.

The activist regularly shares her views on the plant on social media, focusing on Black operators and Black culture in general.

She also posts about the importance of self-love and intimacy, information about the benefits of cannabis, and inspiration for entrepreneurs and business owners across all industries.

Follow Solonje Burnett on Instagram.

Need a little more Bluntness in your life? Sign Up for our newsletter to stay in the loop.