The Bluntness Kitchen Chefs: Meet Chris Binotto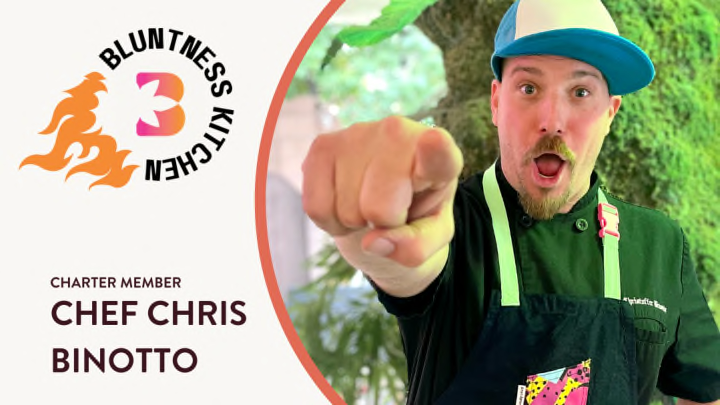 The Bluntness Kitchen is your go-to online community that directly connects you with cannabis chefs and infusion enthusiasts, while answering all of your questions about cooking with our favorite plant: from classic creations like pot brownies and cookies to unlikely elevated dishes like infused Filipino comfort food or filet mignon. 
Whether you're interested in classic hacks or out-of-the-box approaches that transform basic cannabis edibles from quick snacks into fine cuisine, Bluntness Kitchen delivers some of the best, most sought-after tips from cannabis's top chefs straight to your screen – and eventually, your kitchen.
This profile series follows the Bluntness Kitchen Chefs, who've come together to celebrate and share their unique contributions to the intersection of cannabis and food. 
Today, we dive into the world of Chef Chris Binotto, a long-time food-and-weed expert who currently serves as Executive Chef of the Cannabis Supper Club and Founder of Southern Californian cooking experience Embers & Ash. 
Fan Leaves as Parsley, Infusing Seasonal Dishes, and Breaking Cooking Traditions
Binotto – who is known within the cannabis cooking community as "Chef Chris" – has 15 years of professional culinary experience under his belt, but he's been cooking recreationally for as long as he can remember. "I started washing dishes in high school, and I cooked my way through college as well," Binotto said.
Born into a culinary-forward family, Binotto was trained under James Beard award winner Chef Jimmy Schmidt as a teenager.
Since this initial foray into the professional culinary scene, Binotto has worked with Chef Graham Elliot and Iron Chef Masaharu Morimoto, who he assisted in winning two Michelin stars and a Forbes Five-Star award during his tenure.
Along with opening his own kitchens throughout the country (including Beetle House LA, Beetle House NYC, and Karnevil), Binotto has been published in several cookbooks and filmed for Discovery Channel and Food Network. 
His experience with cannabis goes back almost as far as his experience with cooking in general, as he began utilizing the plant as a young adult to assist with his ADD/ADHD symptoms.
"In and out of the kitchen, cannabis helped me to slow down and focus. Six years ago, I launched the Cannabis Supper Club with my partner Marc Liebel. I've been a longtime advocate for cannabis and a seasoned chef, so I figured it was only right that my two passions finally merged," Binotto said.
Today, he utilizes his culinary expertise and his personal experience with the plant to create some amazing infused dishes, bringing a unique and well-informed perspective to the space.
Binotto tends to work smarter rather than harder, and is known for leaving as little of the plant out of his recipes as possible (like using fan leaves for parsley-like garnish in dishes for a special added touch). 
Chef Chris's Favorite Cooking Traditions: "I like breaking traditions. My favorite is a marriage of Asian and Latin ingredients, and flavors that utilize some French-based technique."
This should come as no surprise from the seasoned and well-versed chef, whose favorite dish to make is braised slab bacon with smoked cheddar grits, bourbon barrel-aged maple glaze, pickled mustard seeds and pearl onions with a crispy chicharonne – oh, you know, just something quick and simple. 
Chef Chris's Top Cooking Influences: "I'm consistently influenced by Swedish Chef Niklas Eskdet, Iron Chef Morimoto, and my mom. I also love seasonal cooking. I'm from the Midwest, so I love to bring fall and winter flavors to life out on the west coast wherever I can."
Along with his clubs, national kitchens, and online presence, Binotto provides private cooking experiences to interested patrons, allowing people to taste his unique creations that he is consistently and refreshingly inspired by. 
Chef Chris's Favorite Cooking Hacks: "I really prioritize working smarter and not harder in the kitchen."
For Binotto, patience and meticulousness is key, which is how he's reaped such success and esteem in both the culinary world and the cannabis cooking space. He's consistently looking to partner with new brands as well, bringing his own flavor and approach to collaborators across the nation as he continues to expand his influence. 
Chef Chris's Go-To Strains or Terpene Profiles: "I love using anything with a lemony or citrusy flavor or aroma."
This affinity for the flavorful bleeds into all aspects of his cooking and has been evidenced in his guest appearances and published work, like The Nightmare Before Dinner: Cookbook and his feature on cannabis cooking show Chopped 420. 
Join Bluntness Kitchen today to connect with cannabis chefs from all backgrounds across the U.S., as well as other community members who share your passion and curiosity for infused cuisine.