New York Cannabis Regulators Face Accountability Questions Amidst Rollout Challenges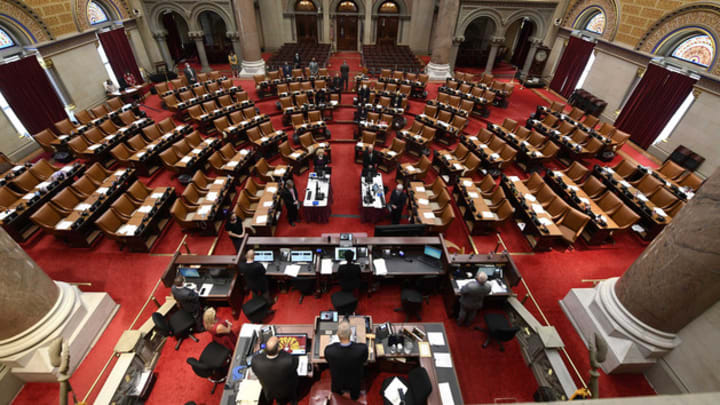 New York Cannabis Regulators Face Accountability Questions Amidst Rollout Challenges /
New York's cannabis program rollout has been marred by controversies and challenges from the start. A private meeting held yesterday by regulators aimed to address the grievances of industry stakeholders and provide updates on the state's initiatives. However, what started as a hopeful gathering quickly turned into a heated exchange, with attendees expressing frustration over the lack of financial transparency from top officials, reported Cannabis Insider.
The meeting, which lasted two hours and involved Conditional Adult-Use Retail Dispensary (CAURD) licensees, the Office of Cannabis Management (OCM), and the Dormitory Authority of the State of New York (DASNY), unveiled several new initiatives. These initiatives include a modified loan program for CAURD holders, changes to DASNY's turnkey storefronts, and the introduction of a database for checking zoning locations.
While the announcement of a $5 million loan program offering up to $100,000 for CAURD holders opting out of turnkey storefronts is a step in the right direction, concerns about financial accountability remain. The lack of collateral requirements and the 5% interest rate provide much-needed support for license holders facing the challenges of securing low-interest funding in a market known for tough banking practices and predatory lenders. However, questions arise regarding the clarity of loan costs and the absence of itemized receipts for high build-out expenses, as raised by Carson Grant during the meeting.
Additionally, regulators' decision to slow down the acquisition of turnkey storefronts and implement price caps for DASNY build-outs aims to address concerns raised by CAURD license holders. Many have complained about the exorbitant prices for turnkey storefronts, which far exceed normal construction quotes. While the intention behind these measures is to level the playing field and prevent competition between DASNY and license holders, there are concerns about potential delays and the impact on the timeline for stores to become operational.
Another significant change involves the zoning approval process. Regulators introduced an interactive map to help CAURD holders check zoning requirements and identify if other dispensaries have secured locations in their desired neighborhoods. Furthermore, OCM and DASNY will no longer jointly vet properties, streamlining the approval process. These changes are welcomed by license holders as they offer increased information and potentially faster approvals. However, there remains a need for clear guidelines on how applicants will be ranked and graded for location selection.
Despite the mixed opinions among CAURD members following the meeting, there is a general acknowledgment of the open conversation and dialogue fostered by the OCM and DASNY. The anxiety of opening stores before general licenses and larger corporations enter the market is palpable among license holders. The first-mover advantage hangs in the balance, and any delays could prove detrimental to their businesses.
It is crucial for regulators to recognize the urgency and financial challenges faced by license holders, particularly those from marginalized communities and with limited access to startup capital. The social equity fund and state-funded build-outs can provide a lifeline for these individuals, but the application process must be streamlined and transparent. License holders like Osbert Orduña emphasize that they need this support to succeed and contribute to their communities.
Transparency and accountability are paramount in ensuring the success and fairness of New York's cannabis program. License holders are investing their time, money, and livelihoods, and they deserve clear communication, financial transparency, and timely decision-making. As the industry evolves, ongoing dialogue between regulators and license holders is crucial to address challenges, promote equity, and foster a thriving cannabis market in New York.
The regulators' commitment to pivot and refine the program is a positive sign, but actions must speak louder than words. The state's mandate to support license holders must be backed by concrete steps and effective implementation. It is essential for regulators to not only listen but also to act on the feedback and concerns raised by industry stakeholders.
The frustration expressed by attendees at the meeting is a clear indication that there is a need for greater financial accountability and transparency from regulatory bodies. License holders have the right to expect clear and itemized cost breakdowns, timely information, and a streamlined process for accessing funding and securing locations. Building trust between regulators and the industry is crucial for the long-term success of New York's cannabis program.
While it is commendable that the OCM and DASNY are willing to hold an open dialogue, more needs to be done to address the challenges faced by license holders. The concerns raised by Carson Grant and Galina German-Innes highlight the urgent need for improved communication and financial clarity. License holders should not have to resort to passionate speeches and public confrontations to get the answers they deserve. Transparency means providing accurate and detailed information, actively addressing concerns, and ensuring that the financial processes are fair and equitable.
As the state continues to navigate the complexities of the cannabis industry, it is important to learn from the missteps and challenges of the rollout thus far. The state must acknowledge that rushing the process without proper planning and infrastructure can have long-lasting consequences. A measured and strategic approach, based on the experiences of other states, can help New York avoid repeating the same mistakes and create a robust and thriving cannabis market.
Furthermore, the state must prioritize supporting license holders from marginalized communities and those with limited resources, such as the farming or cultivation side of the industry, which is often the least understood and least heard. The social equity fund and state-funded build-outs are vital tools for empowering these individuals and addressing historical injustices. Streamlining the application process and ensuring that funds are accessible in a timely manner can make a significant difference in promoting diversity, inclusivity, and economic opportunities in the cannabis industry.
In conclusion, New York's cannabis program is at a critical juncture. The recent meeting held by regulators was an opportunity to address the concerns and frustrations of license holders. While some positive steps were announced, such as the loan program and changes to the zoning approval process, there is still much work to be done. Regulators must prioritize financial accountability, transparency, and effective communication to instill confidence in the industry and support license holders in their efforts to establish successful businesses.
The state's commitment to listening and fine-tuning the program is commendable, but it must be followed by concrete actions and a commitment to rectify past shortcomings. By fostering an environment of collaboration, trust, and accountability, New York can create a cannabis program that not only benefits the industry but also serves as a model for other states to follow. The success of the program depends on the collective efforts of regulators, license holders, and community stakeholders working together to build a thriving and equitable cannabis industry in the Empire State.