Taking DIY Edibles to the Next Level with Anthony Jenkins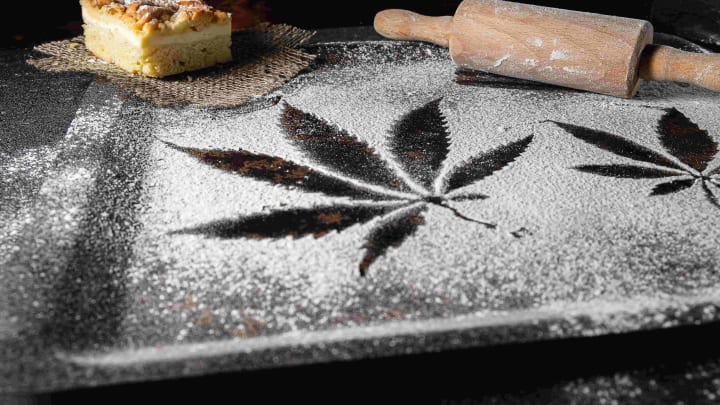 Cooking with cannabis is a popular pastime for both cannaseurs and canna-curious consumers who enjoy getting their hands dirty in the kitchen. It's also more cost-effective, safer for accurate dosing, and a straight-up good time – especially if you're infusing with and for friends.
As this plant-based hobby becomes increasingly popular, consumers are looking for helpful tips and tricks to best inform their cannabis cooking. Enter: Bluntness Kitchen.
The new infused-cooking community is quickly becoming the go-to resource for all things infused and edible, featuring advice and insights from the industry's most talented chefs and culinary experts.
Speaking of talent, this profile highlights the work of Anthony Jenkins: the CEO of Next Level Edibles, who's paired his life-changing cannabis experiences with his longtime passion for baking – and now he's sharing all of that and more with Bluntness Kitchen community members. 
You can join Anthony Jenkins for an "Ask Me Anything" in the Bluntness Kitchen community on Tuesday, February 7, 2023 at 8pm ET. 
Next Level Edibles: A Plant-Based Taste With Therapeutic Effects
Jenkins first became interested in cooking and baking at a young age, after spending a lot of time watching his grandmother "make magic" in the kitchen.
While he never thought he'd pursue the culinary arts professionally, Jenkins always had a penchant for creating new, mouthwatering dishes in the kitchen – and eventually, his interest in cannabis allowed him to fuse his two passions.
Jenkins came across the plant as a high school student, when he first began experimenting with some friends. He began to see the plant's potential and take it more seriously during his college years, when he realized the plant's powerfully restorative effects. 
In 2007, he was diagnosed with depression and anxiety, and after struggling with prescribed medications that came with a host of unsavory side effects (like twitching, irritability, and weight gain), he realized cannabis was a much more realistic and powerful aid for him. 
His therapeutic cannabis experiences inspired him to share the plant's potential with the masses – and when he realized he could combine his love for cannabis with his love for cooking, he was even more excited to do so.
Jenkins founded Next Level Edibles alongside his brother Cartier, who had his own struggles with depression, anxiety, and PTSD from serving in the military. With Anthony's culinary skills and Cartier's cannabis cultivation/distribution experience (he was working as an industry broker at the time), the brothers had a strong foundation to build on. Today, Next Level Edibles empowers consumers across the nation to create their own therapeutic, healthy, and downright delicious infusions. 
Placing Edible Infusion Powers in the Consumer's Hands
Rather than pushing the same old gummies and brownies, Next Level Edibles provides cannabis enthusiasts with the tools they need to create their own infused bites. Whether you're an experienced chef or a complete novice, the company aims to inspire people to take their cannabis edible journey into their own hands.
Jenkins' top cooking influences: "Still my grandma, my mom, and my sister."
Jenkins believes that cooking with cannabis is just as easy as regular cooking, and with Next Level, he wants to dispel the misconception that it takes a high level of skill to properly infuse a dish.
Another popular misconception consumers make in regards to cannabis cooking is believing that the only thing you can or should infuse is baked goods. This couldn't be further from the truth – anything ingestible can be infused with cannabis, as seen by Jenkins' tendency to infuse gumbo or grilled cheese sandwiches.
Jenkins' favorite cooking hacks: "Brown butter works wonders in tons of recipes."
Cooking With a Purpose: Consider Your Desired Effects
For infusion purposes, it's important to approach things from an effects-based perspective – especially if you're aiming to treat depression, anxiety, or PTSD symptoms.
Rather than just picking up a random bag of weed or oil, really think about what sort of effects you're looking for, or what sort of ailments you're trying to soothe. From there, you can hone in on terpenes or strains that best serve your needs – or try to pair the flower's flavors with what you're planning to cook for the tastiest results.
Jenkins' go-to cooking strain: "Grandaddy OG."
In the same vein, it's important to recognize which strains to avoid: strains that provide you with unsavory effects, or are a general mismatch for the flavor you're attempting to bring out with your creations.
Strains that Jenkins stays away from when cooking with cannabis: "Anything CBD dominant. I prefer to use CBD dominant strains in topicals."
While Jenkins tends to prefer savory infusions over sweet ones, Next Level Edibles still provides a wide variety of baking-forward tools for interested consumers – like the latest addition to their menu.
"Check out Next Level's Infused Brown Sugar and Infused Coconut Oil – perfect for baking edibles in a bind," Jenkins added.
To stay up to date on Jenkins and Next Level Edibles' latest creations, following the brand on Instagram.
And for more Bluntness Kitchen in your life…what are you waiting for? Sign up today!