The Dank Duchess Talks Growing Her Own Cannabis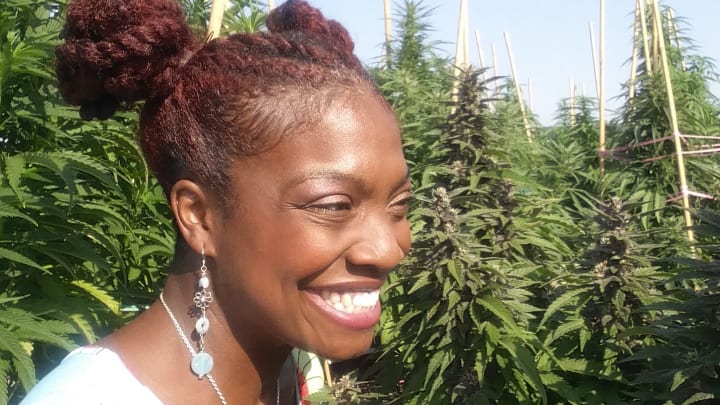 The Dank Duchess is a California-based Hash Consultant, Writer, Cannabis Cultivator, and Media Personality.  Trained personally by Hashaster Frenchy Cannoli, she travels globally to teach hash making to individuals and professional enterprises alike.  Duchess uses technology to spread her message of personal care and wellness; teaching hundreds of thousands of people via Instagram and YouTube over the past six years.
She has appeared on VICELAND's Bong Appetit to make hash and served as a celebrity judge and in several documentaries such as "Cultured Interrupted." Duchess has written dozens of articles for Weed World Mag, Cannabis Now, and Skunk Magazine; as well as contributed to several books, including "This Buds for You" and "Big Buds 2" by Ed Rosenthal.  She is currently the Managing Editor at Skunk Magazine.  A huge proponent of "grow your own" she can always be found in a cannabis garden, playing her steelpans and delighting in life.
The Bluntness caught up with The Dank Duchess to hear about her experience in the cannabis industry.
What motivated you to get involved in the cannabis industry?
After attending the High Times Cannabis cups in Denver and Seattle in 2013, I decided it was time to take the leap into the industry. I believed cannabis was our right and wanted to contribute whatever I could to the movement.
Why do you believe it's important to educate people on cannabis and hash?
It is our duty to take care of ourselves. For far too long, we have been dependent on the established medical community when we have the ability to heal ourselves. Educating people about cannabis and hash gives them the tools to take agency over their own wellness. That is the ultimate empowerment.
How did you decide to begin growing your own cannabis and what was that experience like when you first started?
I began growing cannabis after I realized I could not afford to smoke as much as I wanted. In the beginning, with little more than mostly factual magazine articles, I grew a lot of subpar cannabis. I lived next door to a police officer, so my paranoia ran high from the very beginning. However, as the years went by, my weed went from wack to wonderful (especially when I started growing outdoor in 2015).
What is the biggest challenge in growing your own cannabis and what did you do to overcome it?
My biggest challenge was legality. I overcame it by moving to California. On the technical side, the biggest challenge to growing indoors is the high cost of electricity. I am not in the process of switching over to LED to be able to save a whole lot in cost and also keep the temperature of the room down.
What do you see yourself doing next in the industry?
I recently accepted the position of Managing Editor at Skunk Magazine. Besides continuing to write about hash, I will be helping to set the tone of the magazine, newly helmed by Editor-in-Chief Julie Chiariello.
Anything else you would like to share?
If you feel that cannabis is good for you, join the cause.  If you can, grow your own cannabis. If you cannot, educate someone else and do your part to shed light on the value of cannabis.  We will all benefit.
Keep up with The Dank Duchess on her Website, Instagram, Twitter, Youtube, and Facebook.
WANT MORE? Sign Up for The Bluntness Newsletter for Your Weekly Dose of Cannabis News