Meet Tatiana Weaver of SweetTatas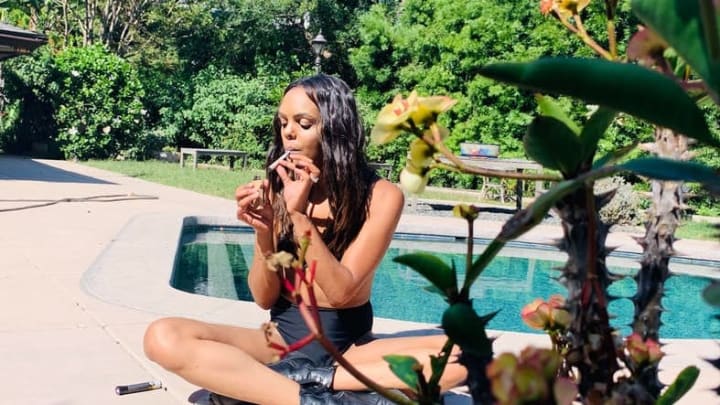 Sign Up for The Bluntness Newsletter for Your Weekly Dose of Cannabis News

We caught up with Tatiana Weaver of SweetTatas – a cannabis brand and events, all about a healing lifestyle, a movement, a feeling, and a vibe.



Tatiana tells us how she started her cannabis biz.



How did you get involved in cannabis?



I've always been your (mostly) unsuspecting true "pothead," so to speak...in the most upbeat, modern-hippie, sot of way. I grew up on weed, dabbled in the 90's, dated your typical stoner in the aughts, and just more methodically and part of a lifestyle in the tens, less reckless abandonment and more frivolous encouragement. That was all, more or less, cannabis/weed. It took a really bad accident and a lot of waking up to find CBD, a more healing and calming lifestyle, and a new way of life. I found CBD after I broke two parts of my neck and tore my lower back, was out of work 6 months, and sort of shifted into a different mindset and perspective. After quickly realizing I was not going to adhere to a prescription, sedentary and limited lifestyle, i decided to find alternative ways to heal and found the only way I could truly heal was adhering to that was a holistic/yoga/cannabis lifestyle. I still deal with pain daily. It's a lifestyle that gives me the opportunity to live freer everyday and now, in turn, help other people.


What is your mission with @sweettatas ?

SweetTatas is a cannabis lifestyle brand focused on connection and reflection, wellness as wealth, and plants over pills. The discovery of the healing properties of hemp and cannabis through a holistic lifestyle can be blissful and eye-opening. With SweetTatas, Tatiana hopes to promote and healing lifestyle of plant medicine through events, education, and brand awareness. My attention to community and heart to heart care is seen by each person i meet, each event i have, and classes I give. I want people to know they have a space to be free, lifestyle products they can vibe with, and created by a person that cares and truly understands



Where do you see yourself in the industry in 5 years?



Hosting a tv show focusing on cannabis lifestyle, putting on large holistic and lifestyle events that reach different communities and other parts of the world. I also hope to be more closely connected to the veteran community and underserved communities, and both men and women who have been traumatized. I hope to have a network and career in place to be able to give back on a grander scale.



What's the biggest challenge of working in the cannabis space and the biggest reward?



The biggest challenge is judgement; and stigma and being able to cross boundaries while still finding success. It's easy to get caught up in what you can't do or what hasn't happened or what isn't accepted. It takes a lot to go outside the box and be your own cheerleader, forging your own path. I see so many inspiring people and things happening that it feels good to stay with the positive life force of energy and not get deterred by the negative. The ultimate reward is living everyday what someone told you you couldn't or shouldn't.



Do you have any advice for any fellow cannapreneurs?



Follow your heart and live to your best self every day the small things matter most. If you feel something is off or not right, it isn't...go with that. Go with what really makes your heart pound. Know that there will be challenges and plenty of let downs in the hustle and bustle of this cannabis world, but if you are doing this for the right reasons, you will always come out on top. Make sure your community is supportive, caring, and sharing. And always remember, it's "puff, puff, pass..." It means a lot.