Cannabis Wealth Challenge to Provide Disadvantaged Entrepreneurs a Free Pathway to Success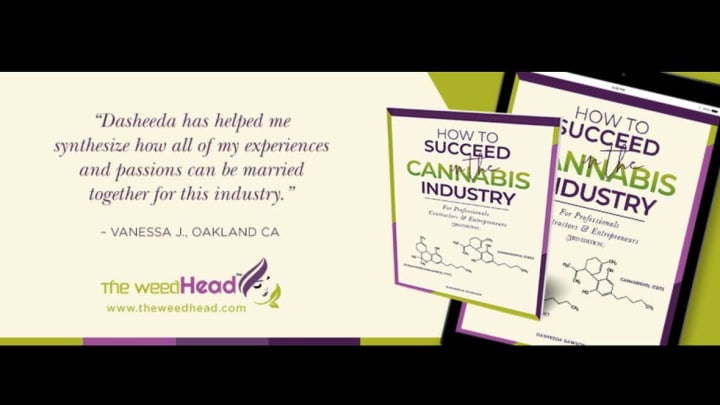 Cannabis is America's fastest growing industry, generating an estimated $14 billion in 2019. However, those without the resources, information and connections to enter the space risk being locked out of its vast potential for wealth generation, particularly those from communities most impacted by the war on drugs. 



Industry trailblazer Dasheeda Dawson is tackling this opportunity gap head-on through the launch of her 'Cannabis Wealth Challenge' on January 1, 2020. Dawson is giving away free access to her introductory cannabis industry digital course to 1,000 deserving entrepreneurs, which includes a copy of her top-selling workbook "How to Succeed in the Cannabis Industry," now in its third edition.



The course is an incisive approach to legal cannabis that provides a solid foundation in both marijuana and hemp through a comprehensive overview of the industry, easy to follow examples and guided exercises that help committed students develop personalized plans for success.



From January 1, 2020 through February 29, 2020, Dawson will accept applications here: Cannabis Wealth Challenge Submission Form. She and other industry experts will sift through the submissions, selecting one thousand people to receive her course, normally priced at $100, with the goal of helping each apply the knowledge and earn at least $100,000, and generating $100 million dollars in wealth for communities that have borne the brunt of the burden from cannabis prohibition, but have yet to receive any of the benefits from legalization.



"Legal cannabis offers tremendous opportunity, but it is tilted in favor of the wealthy and powerful," says Dasheeda Dawson, a respected industry veteran who leveraged a senior-level corporate career to transition into the business. The start-up costs for a dispensary is close to a million dollars, which puts it out of range for most people, particularly those folks who come from communities like East New York, where I grew up, that were hit hardest by prohibition and unequal enforcement. Equity programs are a good start, but truly leveling the playing field requires education and empowerment for those already facing tremendous disadvantages. This contest is open to everyone, and our ultimate goal is to bolster women and minority-owned entrepreneurs, so that they confidently enter the industry with their existing skills and resources and begin building successful businesses."



Dawson's challenge highlights her clear-eyed approach. There are no shortcuts in the cannabis business, but a thorough understanding of industry dynamics coupled with a pragmatic approach to providing value based upon one's existing skill set can propel people to success, even without six-figure start-up capital or high-level connections. To support the 'Cannabis Wealth Challenge,' and promote the latest edition of her workbook, Dawson has embarked on a multi-city book tour. With her help, minority and women owned small business owners can claim their seats at the multi-billion dollar legal cannabis table.



Winners will be announced in phases. The first 100 awardees will be announced on 3/1/20, with new winners announced every month.



The challenge is free to enter and all submissions will be considered. For more information and additional rules, visit: www.theweedhead.com/cannabis-wealth-challenge



*** About the Cannabis Wealth Challenge: Launching January 1, 2020 and running through February 29, 2020, the goal of this groundbreaking initiative is to democratize the cannabis industry and promote equity, diversity and inclusion by empowering 1,000 people from vulnerable communities to enter the cannabis industry and generate 100 million dollars in collective wealth in 2020.



About Dasheeda Dawson: Dasheeda Dawson is CEO of The WeedHeadTM & Company and author of top-selling workbook, How to Succeed in the Cannabis Industry. A global cannabis advocate and industry thought leader featured across multiple outlets, including a historic Times Square billboard campaign, Dasheeda is a corporate crossover pioneer and world-renowned cannabis business strategist. From Target to THC, she has over 15 years of business development, strategic management and brand marketing excellence while leading teams for United Way, Target Corporation, and Victoria's Secret. Dasheeda received her MBA from Rutgers Business School and completed her undergraduate degree in Molecular Biology at Princeton University. She is a co-host on She Blaze, a weekly cannabis culture and news podcast available on Soundcloud, iTunes and iHeartRadio. Additional affiliations within the industry include Chief Strategy Officer for Minorities for Medical Marijuana (M4MM) and co-founder of Cannabis Education Advocacy Symposium & Expo (CEASE).


Buy Dasheeda's book How to Succeed in the Cannabis Industry on Amazon or directly from Dawson's website. And, catch her on book tour Friday, 2/7/20 at Hemp Haven Wellness Center in Laurel, MD. More cities to follow!