You Can Help: Cannabis Prisoner Michael Thompson Parole Hearing Nov. 17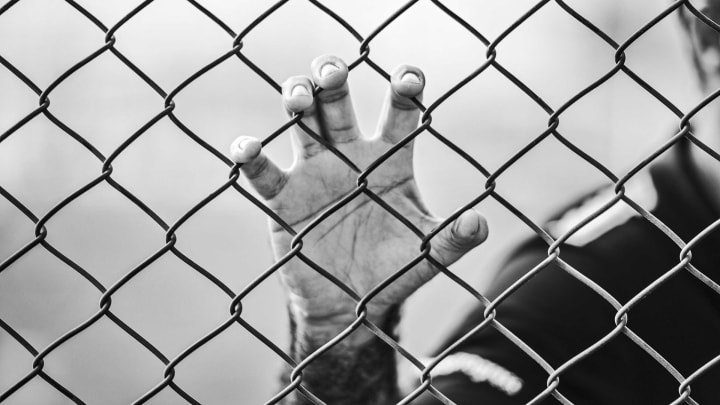 Michael Thompson's story is nothing short of a waking nightmare. 
Imagine for a moment: selling marijuana to a friend you thought you could trust, but was in fact wearing a wire as part of a police sting operation. You're immediately arrested, thrown behind bars, and ultimately convicted. 
While you've done some time before, it was nothing like this: 40 to 60 years. You're 43. You come to the grim realization that this is, effectively, a life sentence. 
Twenty-five years slowly pass, and despite the plodding crawl of time, you are still only about halfway through your prison term. You watch your father, mother, and son — whom you lovingly describe as your "best friend" — die from behind bars, with your grief compounded by the rank humiliation of attending their funerals in handcuffs. 
You watch as cannabis becomes legal across the country, and eventually in your own state, as others make millions in completely legal profits selling the same product that landed you in this concrete hell. You watch as President Obama commutes the sentences of hundreds of other drug offenders, but not yours. 
You receive glowing reports from your correctional officers — "haven't had any negative interactions with him" "stays out of trouble" "always respectful" "gets along with all staff and prisoners" — but are repeatedly denied parole, with your application for clemency outright ignored by the previous governor. 
Those circumstances wouldn't be easy for anybody. Suffice to say, the nightmare hasn't been easy for Michael Thompson, either. 
"All these losses, for what?" Thompson told the Associated Press earlier this year. "I'm in here and I didn't kill anyone." 
Thompson will have a new parole hearing on Nov. 17, his attorneys said. 
Please visit FreeMichaelThompson.com where you can follow easy prompts to petition Michigan's governor for Michael's release.
How Can This Happen? The Story of Thompson's Arrest
How can a man charged with a non-violent drug offense face much more prison time than even the average first-degree murderer? 
In short, Thompson is the victim of the "tough-on-crime" policies and mentality of the 1990s, when "three strikes" and other draconian drug laws sought to put repeat offenders away for good — for even the most minor of offenses. 
When Thompson was caught selling marijuana in 1994, he had two such "strikes" against him: prior convictions for cocaine in 1983, as well as bringing contraband into a prison in 1986. Then, when police searched his home following his 1994 arrest, they also found two guns in a closet: his wife's, as well as an antique firearm. 
Gun ownership is legal in Michigan, but because of Thompson's prior convictions, the state's Habitual Offender Law barred him from owning any weapons. While the firearms weren't used in the furtherance of his marijuana trafficking, prosecutors stacked the charges anyway. 
Justice for Michael Thompson? You Can Easily Help
Earlier this year, Thompson was hospitalized with COVID-19 when lobbying for his cause had intensified in the midst of the pandemic.
The case has gotten attention from influential people both in and outside of Michigan, including the state's attorney general Dana Nessel, who wrote the state's governor about her concerns in August. 
"Sometimes you hear something about a particular person who's incarcerated and then once you look further, you're like, maybe this person deserves to do a little time," Nessel told Michigan Live. "But I was shocked and horrified when I looked at his sentence...I have practiced law for 27 years now and I've never seen anything like it."
Indeed, according to organizers at FreeMichaelThompson.com, Thompson is now serving a longer sentence than any non-violent offender in the state of Michigan. 
They encouraged those concerned about his case to sign their petition to Gov. Gretchen Whitmer urging her to commute his sentence. You can also volunteer to phone bank on his behalf. 
More Than Half-A-Million Arrested for Cannabis in 2019
Even as public policy continues to turn away from a "war on drugs" based approach, there were still over half-a-million people arrested in the United States for cannabis-related charges in 2019. 
While most won't experience the degree of draconian treatment received by Thompson, the numbers are an indication that, even as adult-use cannabis becomes increasingly legal, many will continue to face serious legal repercussions for a plant now legally enjoyed, sold, and marketed throughout the country. 
Whether it's an effective life sentence, or a hindering blemish on your record, it's long past time to stop arrests, expunge records, and commute sentences for anyone caught in the vicious teeth of this barbaric war on drugs.
The Bluntness is gearing up for big things. Don't miss out! Sign Up for our newsletter to stay in the loop.