Arizona and Nebraska Will Likely Decide Marijuana Legalization At The November Ballot Box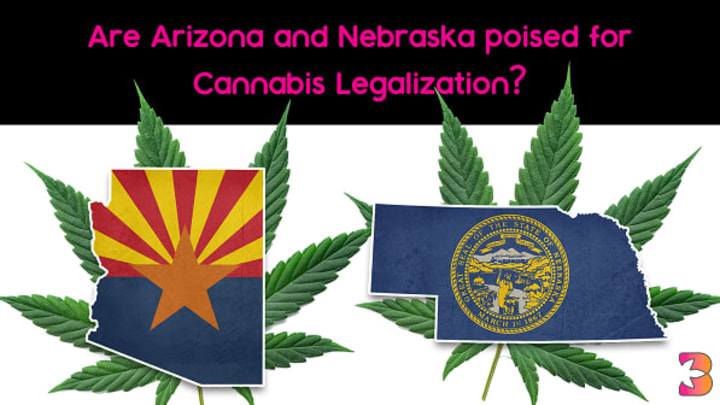 Despite social unrest, a deepening recession and a sustained pandemic, the cannabis industry continues to seize the moment as two new states put their legalization hopes in the hands of voters.
The Smart and Safe Arizona Act Moves Forward
Lawmakers in the Grand Canyon state have pushed forward the Smart and Safe Arizona Act to make recreational marijuana legal once and for all. Medical marijuana has been legal in Arizona since 2010 with the passage of the Arizona Medical Marijuana Act, even though critics find the program to be restrictive given its short list of approved qualifying conditions, including Alzheimer's disease, cancer, chronic pain, Crohn's disease, glaucoma, hepatitis C, HIV/AIDS, Lou Gehrig's disease, nausea, PTSD, seizures, and wasting syndrome.

The Smart and Safe initiative earmarks marijuana tax revenues to strengthen public safety, support higher education, expand health services and rebuild Arizona's infrastructure through designated projects, all top of mind issues in a state at the epicenter of the coronavirus pandemic.

Under the proposed new law, Arizona residents over the age of 21 will be allowed to purchase and possess up to 1 ounce of cannabis, including up to 5 grams of concentrated products. The act also includes a 16% excise act to be placed on all recreational cannabis sold in Arizona.

Stacey Pearson, campaign organizer for the Smart and Safe Arizona Act and SVP of Strategies 360, led the successful signature petition to get recreational marijuana on the November ballot. Organizers turned in 420,000 resident signatures, nearly 150,000 more than the number required.
The campaign has, in the last six weeks or so, caught fire at a grassroots level. We knew that we could grind this out. You could have somebody posted up in front of a Safeway and get a signature or so an hour. What we didn't expect is people asking us to come to their door. We were already in really good shape when the pandemic hit. We took a week to assess how we could do this safely. When it was clear people were ordering french fries to the door, they'd feel safe ordering democracy."

- Stacey Pearson, SVP of Strategies 360
Referring to the huge number of signatures obtained, Pearson added "This cushion is bulletproof…We're certainly not taking anything for granted, but Arizona has shifted on this issue."
Even though New York's legalization efforts were put on hold due to the pandemic, Arizona will now join New Jersey and South Dakota in the vote for recreational cannabis this November.
Nebraskans for Medical Marijuana Secure Grassroots Support
Nebraska residents will likely get to vote this November to legalize medical marijuana after advocates announced they have enough signatures to put the initiative on the ballot. If approved by a majority of voters, the law would allow patients to access and use medical marijuana as recommended by their physician or nurse practitioner. 
Organizers of the Nebraskans for Medical Marijuana campaign said they've gathered 182,000 of the required 121,000 valid signatures required to qualify for the ballot. Campaign officials also needed to collect signatures from at least 5% of voters in at least 38 Nebraska counties. The petition gathered signatures from all of Nebraska's 93 counties and was submitted to the secretary of state this week.
Families with loved ones suffering from conditions like epilepsy, PTSD, and cancer have fought for years to make medical cannabis safely accessible. Today represents a huge step forward for thousands of Nebraskans who deserve compassion. We are confident that we've met the requirements for ballot qualification, and after seeing the outpouring of support for our petition, we're even more confident that Nebraska voters will approve this initiative in November.

- Nebraska State Senator Anna Wishart

Nebraska lawmakers have repeatedly rejected similar medical marijuana measures. Most recently, Nebraska's 2016 medical marijuana measure named "The Compassion and Care Act" was blocked by a State Senate filibuster after encountering "stiff opposition" by far-right republican Governor Pete Ricketts, who remains a vocal opponent.
Not surprisingly, the republican governor seems to be conveniently ignoring the wealth of science and research attesting to the benefits of medicinal cannabis, especially for older citizens who represent 19% of Nebraska's population.
By mid-August, state and local officials will tally and validate the signatures collected by the campaign to confirm qualification for the November 3rd general election ballot.
Our Blunt Take
The performance of the cannabis industry during these troubled times continues to give credence to the belief that the industry is not only recession proof, but also may be just what the doctor ordered for battered state budgets. Just this week, a majority of Pennsylvania Senate Democrats sent a letter to the governor supporting adult-use marijuana legalization in order to make up for losses resulting from the coronavirus pandemic.