5 Of Our Favorite Cannabis Cookbooks To Satisfy Your Weed Cravings and Culinary Senses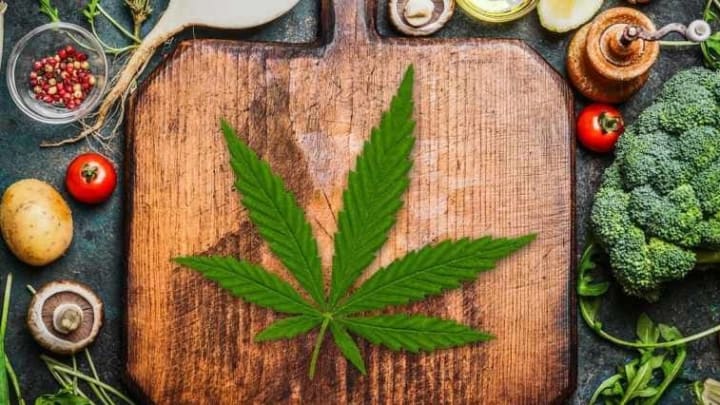 Fun Fact: The oldest recorded cannabis edible recipe is taken from one of the first cookbooks ever written: De Honesta Voluptate Et Valetudine (Of Honest Voluptuousness and Health), by Bartholomaeus Platina in 1475. The recipe was for cannabis nectar.
With that bit of history out of the way, creating your own marijuana edibles has gone mainstream and way beyond cannabis nectar or even "dorm room" brownies. Today, you don't have to be a master chef to create sensational cannabis infused desserts, refreshing cocktails or even a five course gourmet meal - all without having to leave your own kitchen.
Take a look at 5 Of Our Favorite Cannabis Cookbooks as enthusiastically reviewed in the "kitchens" of Team Bluntness. No matter which one you choose, each offers an upfront beginners guide so you can master the basics like cannabutter and cannaoil. From there, you can move to creating infused NY strip steak with chimichurri, french bread pizza, raspberry and peach pie, strawberry jam pavlovas and so much more. Enjoy!


Edibles: Small Bites for the Modern Cannabis Kitchen by Stephanie Hua with Coreen Carroll

Edibles: Small Bites for the Modern Cannabis Kitchen is a unique collection of 30 bite-sized, low-dose recipes that venture boldly beyond the ordinary with tasty, unique, and innovative treats. Best of all, Edibles breaks down the science behind these treats with education and need-to-know tips. No matter your skill level, Edibles dishes all the information you need to make simple recipes like spiced superfood truffles alongside more advanced dishes such as strawberry jam pavlovas, all brought to life with vibrant photography. (Amazon: $15.89).

Cooking With Herb : 75 Recipes For The Marley Natural Lifestyle by Cedella Marley with Raquel Pelzel
The 240 page book Cooking With Herb : 75 Recipes For The Marley Natural Lifestyle by Cedella Marley is more than a collection of recipes — it's a lifestyle book that reflects the author's holistic, clean living philosophy. Marley, the eldest daughter of reggae legend Bob Marley, takes you on a journey of familiar Caribbean dishes like Canna Banana Fritters, Callaloo Gouda Dumplings, Jerk Chicken and spicy Jamaican patties. And because food is only one aspect of the author's wellness routine, Marley also highlights recipes for homemade beauty scrubs and hair treatments. (Amazon $24.07)

The Easy Cannabis Cookbook by Cheri Sicard

Named by The Daily Beast as the "Martha Stewart of Weed", author Cheri Sicard's The Easy Cannabis Cookbook features more than 60 medical marijuana recipes for both sweet and savory edibles. There is also a comprehensive introduction to the benefits of cannabis, a fool-proof guide to finding your perfect dose, choosing the right herb, and basic culinary equipment. This book ranks high on our list because it contains some of our favorite stoner eats such as banana bread, cheesy fettuccine alfredo, apple stuffed pork chops and lemon blueberry scones. (Amazon $9.99)

Cooking With Cannabis: Delicious Recipes for Edibles and Everyday Favorites by Laurie Wolf
Wolf's 70 weed recipes in Cooking With Cannabis: Delicious Recipes for Edibles and Everyday Favorites are soulful, deep in flavors and upscale enough to find at a five-star restaurant. Skipping the ubiquitous cannabis slang, quotes, and puns, this cookbook does an amazing job explaining the benefits of marijuana for treating or relieving the symptoms of illnesses like cancer, PTSD, anxiety, and depression. There is also blend of gluten-free and vegan choices, and even a section on kitchen tips and how to use cannabis seasonings. (Amazon $16.99)
Bong Appétit: Mastering the Art of Cooking with Weed by the Editors of MUNCHIES
Yes, this is the dopest name for name for any cannabis cookbook ever written - we admit that upfront. But Bong Appétit: Mastering the Art of Cooking with Weed  is much more. Aside from the 65 sophisticated recipes for a wide variety of delicious meals (spinach and artichoke dip, raspberry and peach pie, rib eye with weed chimichurri, and cannabis leaf pesto), Bong Appétit adds information on infused oils, butter, terpenes, choosing the right strain and proper dish prep. Some of these dishes are even featured in the VICE TV show of the same name. (Amazon $27.00)
WANT MORE? Sign Up for The Bluntness Newsletter for Your Weekly Dose of Cannabis News