Cooking with Cannabis: Pineapple Express Arborio Rice Pudding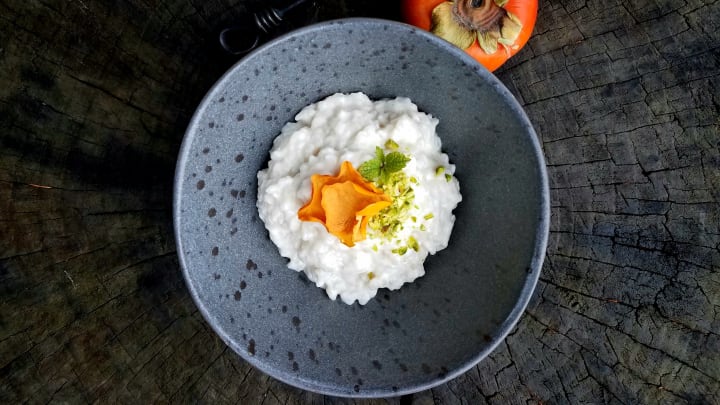 In this edition of Cooking with Cannabis, Chef Sebastian Carosi - the short -order cannabis revolutionary - gives The Bluntness his recipe for Pineapple Express Arborio Rice Pudding.
Pineapple Express Arborio Rice Pudding
Servings: 6-8
Total THC/CBD: Depends on the potency of the products used
Prep time: 15 minutes
Cook Time: 1 hour
Note From Chef Carosi
I'm not sure if I know of another dish that has this worldly of a reach... aka: whitepot, sweet rice, arroz con leche, arroz con dulce, du riz lait, morocho, congee, amazake, hasty pudding, sutlija, tameloriz, rizogalo, milchreis, bodino di riso, payasam, phinni, kheer, firni and of course- rice pudding.
Every country and family has their own list of ingredients and techniques that lead to their divine version of rice porridge. Some rice puddings are thickened with the addition of egg and use dairy, this recipe relies on the creaminess of the particular variety of rice and mainly the technique, it is also dairy free. 
Pineapple Express, the Sativa dominant hybrid child of Trainwreck and Hawaiian is the strain of choice to balance the level of comfort and creativity. With overtones of fresh cut pineapple, green apple, and mango- likened to a fresh Hawaiian fruit stand.
As a professional culinarian and chef that has openly admitted my enormous rice pudding addiction and should possibly seek a rice pudding support groups help, I really just wanted to share another recipe to add to your arsenal, one with a velvety mouthfeel and nuances of sweet full fat cannabis and coconut milk. 
Equipment Needed
bowls for serving this awesome pudding
Ingredients
4 cups whole milk (almond milk, coconut milk, or water is okay to use)
1 tsp micro plane grated fresh ginger
½ vanilla bean (split + scraped)
1½ cups organic arborio rice
1 can full fat coconut milk (14ozs)
1 tbsp non-gmo cornstarch
How To Make It
1. In a large saucepan combine the milk, sugar, salt, vanilla extract, scraped vanilla bean, ginger, and rice.
2. Simmer over moderate heat, stirring constantly until the rice is tender and suspended in a thick creamy sauce, about 35 minutes or so.
3. Mix cornstarch with 1 tbsp coconut milk to form a slurry.
4. Stir in the full fat coconut milk, the cornstarch slurry, and simmer an additional 15-20 minutes or so, stirring constantly.
5. Make sure the rice is done or at least to the tooth, stir and let cool at room temp for 15 minutes.
6. Spoon the rice pudding into your desired serving vessels and chill overnight. (some like to eat the pudding when it's still warm).
7. Garnish with your choice of toppings like diced fresh pineapple, pomegranate seeds, full fat coconut milk drizzle, dried pineapple chips, dried persimmon chips and fresh mint leaves.
To learn more about Chef Carosi, visit his Camp Ruderalis website or follow him on Instagram.
Need more cannabis-infused cooking inspiration? Here are5 of our Favorite Cannabis Cookbooks to Satisfy Your Weed & Culinary Senses!