Health & Wellness
Cooking With Cannabis: Cannabis, Kale & Pickled Wild Blackberry Salad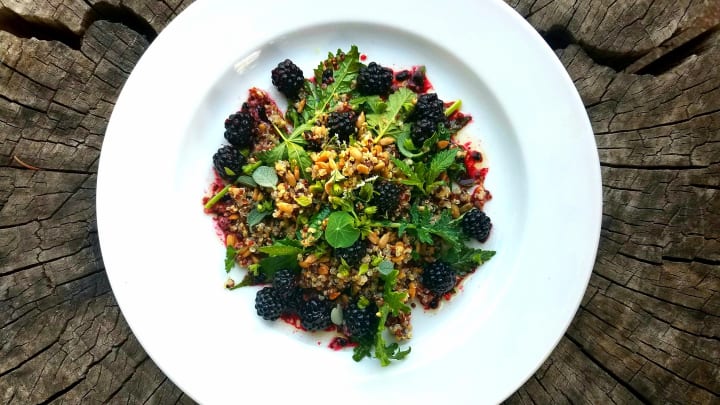 In this edition of Cooking with Cannabis, Chef Sebastian Carosi - the short -order cannabis revolutionary - gives The Bluntness his recipe for Cannabis, Kale & Pickled Wild Blackberry Salad.
Cannabis, Kale & Pickled Wild Blackberry Salad
Servings: 4 individual salads or 1 large family-style salad
Total THC/CBD: Depends on the potency of the products used
Prep time: 12 minutes
Cook Time: 15 minutes
Note From Chef Carosi
For those of us that have been around the cannabis plant for any length of time, we become used to utilizing the fan leaves, sugar leaves, shoots, sprouts and even the pollen of the plant in our diets. Young cannabis leaves are piquant and loaded with plant-based protein.
This salad is easy-peasy and relies on the freshness of the products used and the tender, piquant, young cannabis leaves… remember to use only leaves 2" in length or shorter. Most people really don't think of them as a pickled addition to their salad. 
This formidable, mostly evergreen vine with compound leaves and stout thorns is especially fond of the Pacific Northwest climate and thrives here like few other places. That means a lot of blackberry goodies for me- small hand pies, jams and jellies but most of all eaten out of my purple stained hands while picking. Yup, eaten out of hand under that bright summer sun, high AF on Kush in the middle of a potentially dangerous patch of very thorny brambles is my all-time favorite way to consume these drupes.
Enjoy these lightly pickled berries in this thoroughly nourishing cannabis and toasted ancient grain salad.
Equipment Needed
medium stainless-steel mixing bowl
serving platter or plates
Ingredients
2 tbsp fresh squeezed lemon juice
½ tsp jacobsen kosher salt
1 tsp cracked black pepper
1 cup cooked toasted tri color quinoa
½ cup cooked toasted farro
½ cup cooked toasted pearled barley
2 cups organic baby kale leaves
1 cup young hemp or cannabis leaves
½ cup misc. young herbs (such as parsley, tarragon, cilantro, or summer savory)
½ cup young nasturtium leaves (the flowers are okay too)
¼ cup toasted sunflower seeds
¼ cup toasted pistachios (rough chopped)
½ cup toasted hemp hearts
¼ tsp cracked black pepper
How To Make It
1. In a large stainless-steel mixing bowl quickly pickle the blackberries in the cannabis vinegar, honey, a pinch of kosher salt and pepper, and lemon juice for no longer than 30 minutes.
2. Toast the quinoa and other grains in a dry skillet until they smell toasty, do not burn them, set aside.
3. Cook the quinoa and other grains to your desired doneness in a medium saucepan in boiling, salted water.
4. Strain well and refrigerate the quinoa and other grains, keeping them all separate.
5. In the large mixing bowl with the berries and berry liquid, add the remaining ingredients, holding back some of the pistachios and other nuts.
6. Quickly and gently toss the salad and place it on your desired serving vessel or vessels and sprinkle with sea salt.
7. Garnish with the remaining chopped pistachios and nuts and serve immediately.
To learn more about Chef Carosi, visit his Camp Ruderalis website or follow him on Instagram.
Need more cannabis-infused cooking inspiration? Here are5 of our Favorite Cannabis Cookbooks to Satisfy Your Weed & Culinary Senses!