INDUSTRY
Fear & Loathing in Maine: Feds Over-Encroaching on State Cannabis Program?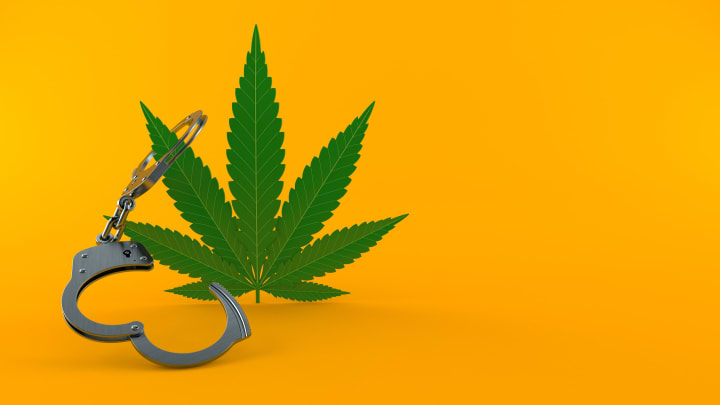 Pay careful attention, cannabis industry stakeholders – this could happen to you. /
Nov. 19, 2021 -- Eleven defendants pleaded not guilty Thursday in a federal case out of Maine, which the whole U.S. cannabis industry ought to be watching.
Among the defendants is Lucas Sirois, a former cannabis caregiver, who has been accused of spearheading the illicit sale of more than $13 million in cannabis over a period of six years.
As reported in the Press Herald, Sirois plead not guilty to a range of "conspiracy" charges, including conspiracy to distribute a controlled substance, conspiracy to commit money laundering, conspiracy to commit honest services fraud, two counts of bank fraud, and conspiracy to defraud the United States and impede and impair the Internal Revenue Services.
The not guilty plea comes 16 months after the feds initially disrupted Sirois's Farmington-based operation and took property, cash, computers, vehicles – even Sirois's right to use medical cannabis, while he has to wait and see how his fate will play out.
Pay careful attention, cannabis industry stakeholders – this could happen to you.
A Chilling Effect on the Cannabis Industry
Magistrate Judge John Nivison has set a trial date for the January 2022 term, however Sirois's defense team plans "to pursue a preliminary injunction in the form of a Rohrbacher-Farr challenge to stop the prosecution," attorney Eric Postow of Parlatore Law Group told The Bluntness.
Postow, who is assisting attorney Timothy Parlatore on the case, emphasized how the Rohrbacher-Farr amendment prevents the DOJ from spending any funds to prosecute a state-legal medicinal cannabis business that is compliant with state laws. 
"The facts of this case strongly demonstrate that our client was acting in compliance with Maine's laws and should therefore not be prosecuted," Postow said.
"As far as importance, the DOJ's efforts here are directly chilling the legal cannabis industry by over-broad and selective enforcement in the ways that Rohrbacher-Farr was written to prevent."
Everyone in Cannabis is at Risk
Essentially, if the Feds win this case, it could open the gates for them to go after other state-legal operators. If Sirois wins this case, it will send a clear message to federal agencies still trying to police this herbal plant: back off.
The whole point of the Rohrbacher-Farr amendment is to prevent federal interference while states figure out their cannabis programs.
Because cannabis is a schedule one controlled substance, technically everyone in the industry – both plant-touching and ancillary businesses – is breaking federal law.
(By the way, if you're not familiar with how cannabis originally became a Schedule I controlled substance, read this article and prepare yourself for a shock.)
And with state regulations constantly changing and evolving, the risk is further compounded for all operators.
How is an industry voted in by people at the state level supposed to thrive if the feds disrupt progress, taking people's property and threatening with life in prison?
As Postow explains, even if you think you're running an airtight operation, the risk is still there. 
Suppose you're a licensed state operator and you legally sell a shipment of cannabis. If the buyer does something illegal with it, the federal government could possibly take it all the way back to you.
"All the way down the chain, if you open it up like that, so broadly, everybody in cannabis is at risk. That's the issue here," Postow said. 
"They're so far removed from the licensed business operations that anyone that you touch, any relationship, anyone you talk to, if they are doing something illegal with cannabis, the federal government is going to be able to tie them to you or are going to try to tie them to you – and through tying them to you, they're going to attack you."
The Feds Picked the Wrong Guy
Postow is quite confident about the Sirois case, that the facts show Sirois's operation was compliant with state law, and the federal government has over-encroached on a state program.
"As soon as the federal government put out their complaint, it was clear that our client and his business are not the bad guys. The true story here is that the federal government is the bad guy in this narrative," Postow said. 
"The federal government is the bad guy when it comes to attacking legal business, folks that are trying to do everything right under their state laws to bring themselves up, entrepreneurs with this threat of a lurching federal government right on their back, that essentially says, 'if there's any slip-up anywhere in the universe that you're in, we're going to tie those people to you, we're going to make you part of this broad conspiracy, and we're going to shut you down."
Not only had Sirois's licensed operation passed multiple compliance audits, but Sirois was also an advocate for more robust tracking and tracing systems, working with regulators and policymakers to create tighter measures to prevent things from slipping, Postow said.
"Does that sound like someone who wants to do things illegally, if he's advocating for them to watch him more closely? No, because quite frankly, they picked the absolute wrong guy here."
Luke Sirois didn't come from money, Postow continued. "He's not the Wall Street guy; he's not the Ivy League school, Brooks Brothers suit CEO. He's a guy that found his chance with a plant that he understood, and when it became legal, he seized his opportunity to pull himself up, and he brought himself up and he brought his family up, and that's what the federal government wants to attack. They're going after blue collar working  people, they're going after the little guy, people that finally have their chance and they make it, that's who they're attacking," he said. 
"We have multi-state, billion-dollar marijuana businesses right now, and you hardly hear about them. It's the regular people that they go after because they think they're unsophisticated and they won't fight back, and they won't make a stink. Luke's not that guy. He's a fighter, and we're going to fight this thing in every way possible, because it's wrong. What they're doing is wrong, and everybody knows it."
Need a little more Bluntness in your life? Sign Up for our newsletter to stay in the loop.