Cannabis: The Year 2022 In Review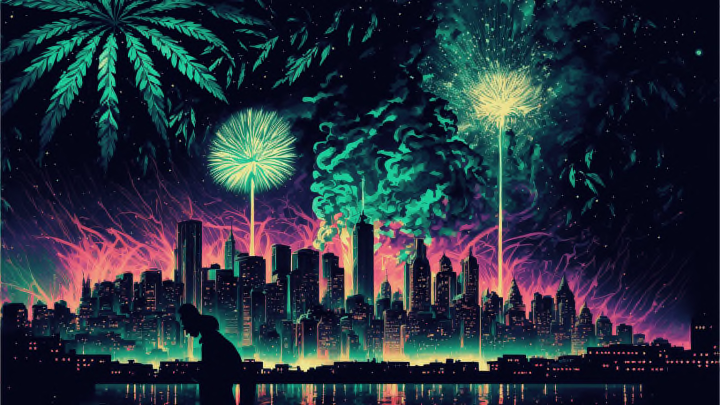 A lot happened in the cannabis universe this past year. /
The year 2022 featured major turnarounds in cannabis legalization, law reforms, as well as scientific breakthroughs that increased awareness on the value of cannabis. 
These events also catalyzed how cannabis moved from a banned substance in several countries like Germany and Thailand to a medicine prescribed for several conditions or even legal for adult use. 
We've also witnessed how cannabis reduced dependence on alcohol and opioids, displayed potential antibiotic activity, and offers a potential answer to several forms of cancer. 
We also had more attention to rare cannabinoids like CBGa, THCV, CBDV, and THCa flower and terpenes in 2022. These unique flowers, especially the THCa flower, are now in high demand by formulators, farmers, researchers, and consumers. 
What was the most exciting event that happened in the cannabis industry in 2022? Well, we will leave you to be the judge of that. In the meantime, here are a few major events in the cannabis industry that caught our attention in 2022.
Acquisitions, Mergers, and Deals
1. Acquisition of MJBIZCon by Emerald X
This was one of the biggest headlines in the cannabis industry during January 2022. The deal was sealed for a record $120 million in cash plus potential earn-outs. MJBizCon is the oldest and largest trade show in the cannabis industry, with its award-winning publications, including MJBizDaily, MJBiz Magazine, and Hemp Industry Daily.
2. Pfizer and Arena pharmaceuticals
Although this deal was first announced in December 2021, it was finalized in March 2022. It featured a $6.7 billion purchase of Arena pharmaceuticals to develop medications for immuno-inflammatory diseases. Arena Pharmaceutical focuses on developing cannabinoid-type therapeutics like Olorinab, an investigational drug for pain associated with diseases affecting the stomach and intestine.
3. Major Baseball league embraces CBD
Major League Baseball became the first out of the four major U.S Sports leagues to strike a sponsorship deal with a CBD company. The big news came in October 2022 with Charlotte's Web featuring the MLB logo on products that have received special certification for use by athletes. The partnership allowed Charlotte's web to release a new line of products known as Sports Daily Edge, a tincture and the first CBD product to be certified for sports by the National Sanitation Foundation (NSF).
Major Breakthroughs
1. Scientific papers published
About 2058 scientific papers were published on cannabis (1871) and hemp (187) in Pubmed in 2022. Note that this number was arrived at after a search on Pubmed on all articles containing cannabis or hemp in their title. Most of the published papers focused on cannabis and cannabinoid safety, exploring the therapeutic benefits of cannabinoids and possible uses of hemp. So far, about 30,000 scientific papers have been published on cannabis. This is enough evidence to push for legalization or support medical claims.
2. New cannabinoids/compounds
Cannabinoids and terpenes are the livewires of cannabis research since most cannabis-related information relies on their therapeutic potential. So far, about 150 cannabinoids have been identified in the cannabis plant, with four new additions to the list in 2022. The newly isolated cannabinoids in 2022 include:
Anhydrocannabimovene
1,2-dihydroxycanabidiol
3,4-dehydro-1,2-dihydroxycannabidiol 
Hexacannabitriol
These hydrogenated forms of CBD were isolated from the cannabis plant for the first time. The new cannabinoids, like Hexacannabitriol, exhibited a better anticancer property than CBD. They are formed after exposing CBD hemp to air for a very long time or via the enzymatic conversion of CBD. Hexacannabitriol can potentially serve as a chemoprotective and anticancer agent.
3. More endocannabinoids
Pentadecanoylcarnitine (PDC)was identified as an endocannabinoid in dolphins. Like anandamide and 2-AG, PDC can modulate cognitive activities like inflammation, pain, mood, and sleep. This brings the total number of endocannabinoids to eight. The eight identified endocannabinoids are listed below;"
Anandamide (AEA)
2-AG
palmitoylethanolamide (PEA)
Docosahexaenoyl ethanolamide (DHA-EA or synaptamide)
Docosahexanoyl-glycerol (DHG)
Eicosapentaenoyl ethanolamide (EPA-EA)
Eicosapentanoylglycerol (EPG)
PDC
Cannabis Conferences and Events
About 55 cannabis conferences and events took place in 2022. These events featured a combination of product displays, discussion on cannabis science, legal status, and more. 
The sole purpose of these events is to allow people in the cannabis industry to connect easily and share ideas. It serves as a way of informing the world about the latest happenings in the cannabis industry and how people can maximize its potential. 
If you're planning to attend any cannabis industry events in 2023, here are 37 of them to consider.
Legalization and Reform
The legal status of cannabis is one of the major driving forces for its recognition and adoption as an adult-use product or a medicinal compound. In 2022, the cannabis industry witnessed a major turnaround regarding laws and reforms. Here are a few of the most notable reforms.
1. Thailand
Thailand became the first Asian country to legalize weed and the third to decriminalize cannabis globally, after Canada and Uruguay. The big news came in June 2022 with the new law encouraging cannabis cultivation at home. Thailand distributed about one million free cannabis plants to households nationwide to mark the new rule. 
However, the cultivated plants will be "medical grade" with not more than 0.2 percent THC. 
Medicinal cannabis is a big thing in Thailand. The country approves the prescription of medicinal cannabis for about 38 disease conditions. Three of the most common conditions include:
Malignant or non-malignant tumors
Neuropsychiatric disorders
Musculoskeletal symptoms like pain, spasm, rigidity, or weakness
2. Germany
Germany plans to decriminalize the possession of up to 30 grams of cannabis and allow the sale of adult-use cannabis in a controlled market. The proposed law will allow growing cannabis at home to a limited extent (up to three plants per adult), and sales will be limited to adults from licensed stores and pharmacies.
3. The United States
The U.S. cannabis industry went agog in October 2022 when President Joe Biden seemingly set out to fulfill one of his campaign promises, announcing he would grant pardons for simple federal marijuana possession convictions. According to his words, "no one deserves to be in jail for the possession of cannabis."
While this looked like a welcomed development, it later turned out to be a political ruse because there are zero people locked up in federal prison for simple cannabis possession. 
In November 2022, voters in Maryland and Missouri also approved the legalization of adult-use cannabis, bringing the total to 21 states, as well as Washington, D.C. and Guam.
Darkest Moments?
1. A 4-year-old child died after taking THC gummies
While investigations are ongoing, Tanner will be the first child to have ever died of a cannabis overdose. Cannabis-related deaths are extremely rare but when they do occur, they may be triggered by allergens or additives (like synthetic cannabinoids) in the cannabis products and not the phytocannabinoids (plant-based cannabinoids) themselves. While some believe a cannabis-related death is possible, others believe Tanner must have died from other causes and not high THC. See a detailed report on the case here.
2. Law student dies after eating synthetic cannabis gummies
Damilola, a 21-year-old London-based law student, died after consuming cannabis gummies made from synthetic cannabinoids. According to reports, Damilola and her Friend had purchased the gummies from a messaging app and felt unwell after consuming them. Some experts believe this may have been caused by synthetic cannabinoids and have since warned the public to desist from consuming them. This indicates that consuming unregulated cannabis products from unrecognized outlets can be fatal.
3. Layoffs
The global recession has dealt a great blow to the cannabis industry as most companies have cut down hundreds of jobs and closed several retail outlets and cultivation facilities. This has continued for quite a while and may likely move into 2023 unless global inflation suddenly improves. Major players in the cannabis industry, like Weedmaps, have laid off about 25 percent of their workforce.
What to Expect in 2023?
Here are a few predictions for 2023. Please note that these are just predictions based on current market data and available information from the cannabis industry. Some of the important things to look out for in 2023 include but are not limited to the following:
More evidence in cannabinoids as antibiotic agents with a focus on rare cannabinoids like CBGa, THCa, CBG and THCV, and CBDV. 
Talent scarcity
New law reforms may support a change in banking policies to favor cannabis industries. 
Kansas and three more states may legalize cannabis in some form. 
Cannabis stocks may skyrocket due to more legalization and law reforms favoring the medicinal and recreational cannabis industry.
Need a little more Bluntness in your life? Subscribe for our newsletter to stay in the loop.