Airgraft Brings Major Disruption to World of Cannabis Concentrates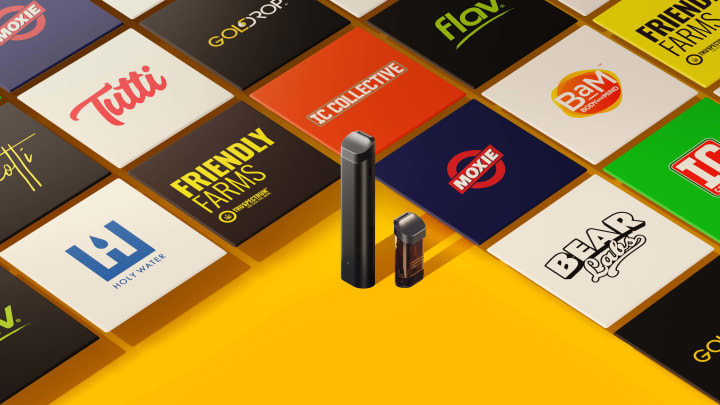 The Airgraft 2 is raising eyebrows during its June 2021 pre-launch. /
The spread of cannabis legalization is great news, and there is an understandable amount of fear surrounding who will be first to take over the legal industry, and how accessible and affordable the plant will end up being for the average consumer. 
Cannabis vaporizer brand Airgraft is determined to both address this issue and flip the industry on its head with their release of Airgraft 2, offering an insanely affordable membership program unlike anything cannabis has ever seen before. 
The brand is currently in Pre-Launch Access stage in California, providing a number of consumers with access to an Airgraft membership and a limited edition starter kit including an Airgraft 2 battery, 0.5 gram premium pod, odor resistant pouch, and hollowed out "book" to store your pods and device – all for just $11. 
Why Cannabis Vaporizers?
Vaping is one of the most efficient, healthiest ways to consume cannabis -- if you have the right device and the right product. /
Vaping cannabis is one of the most favorable ways to consume the plant today: it's easy to dose, discreet, practically odorless, and bursting with flavor. Going smoke-free is also considered a less harmful way of consumption, so if you can't hit a joint without coughing up a lung, vaping may be the route for you.
While many cannabis vape products are on the market already, they're either frighteningly cheap (never forget the bootleg vape crisis of 2019), or simply overpriced.
"Right now, you're either buying 510 threads, which are basically like old-school ovens, and hoping for the best, or you have some of the other competitors with slightly better systems, but they're prohibitively expensive, and there's just nothing that truly solves these issues. And that is ultimately what we're working to address," says Chief Creative Officer Davor Krvavac.
"We're quite apart from everything else out there. Cheaper than 510, but better than the most expensive portable vaporizers."
Establishing a new frontier for the vaporizer industry as a whole, Airgraft 2 is so much more than a high-quality, affordable cannabis product. It's a reliable source that aims to deliver an artisanal cannabis experience to every consumer, for just $10 per month.
Who Is Airgraft?
Airgraft brings much-needed innovation to consumer tech in the cannabis space. /
Made up entirely of cannabis outsiders, the Airgraft team first approached the industry fresh from the world of health and consumer tech. 
"We absolutely do not come from a cannabis background," Krvavac says. "On a personal level some of us might, but as a company, we come from electronics, health, tech...all diverse backgrounds with experience of working with some of the top global brands and businesses."
While many legacy brands and consumers are reluctant to trust outsiders like this, the Airgraft team have proven themselves to be trustworthy within the industry, initially with their release of Airgraft 1.
"We started to see a lot of cannabis companies try to position themselves as tech, but none of them were on our level, and we recognized that opportunity. Airgraft 1 was a premium vaporizer, but as soon as we released it, we saw two key problems with the industry: product and platform," Krvavac says.
From a product perspective, most off-the-shelf technology heats the extracts in a way that burns some of the oil. This is both harmful and wasteful – 30 percent of usable extract ends up trapped in the pod, never to be seen. 
From a platform perspective, oils and pods are usually retailed together, which maximizes markup and drives up the price for consumers – even more so when you're paying for high-quality technology.
The Airgraft team recognized these issues and sought out to improve these technological dysfunctions in a way that would deliver fantastic results in an affordable manner: a.k.a., Airgraft 2. 
Introducing Airgraft 2: A New Way To Consume Cannabis
Vape lovers have never seen anything quite like the Airgraft 2. /
"We solved the product challenge first, redesigning the pod using FDA recognized heated-food safe materials, tailored heating profiles for every oil and fluid dynamics optimized airflow, liberating up to 30 percent more extract from every gram," Krvavac says.
In addition to this guarantee that you're getting as much bang for your buck as possible, the buck in question is unbelievably low. By giving their oil pods to growers for free, Airgraft has cut the retail cost of a typical pod almost in half, allowing cannabis users to experience a legitimate product regardless of budget.
Let's hope Airgraft will soon be available in other markets besides California!
The Pre-Launch Access phase will gain you the most benefits: for $11, you receive an Airgraft 2 device, 0.5 gram premium pod, odor resistant pouch, and a hollowed out "book" stash case for discreet storage. You also stand a chance to earn additional 0.5 gram pods for referring your friends.
The Airgraft 2 pre-launch Starter Kit is only available while supplies last. /
If you decide to access Pre-Launch, you'll enjoy these benefits until July 1, when all members will be automatically switched to Airgraft's monthly recurring membership (unless you decide to cancel or pause before this date). 
From that point on, you're able to purchase as many Airgraft pods as you'd like from a participating dispensary or delivery service, "unlocking" and activating them via the Airgraft website. All for the flat fee of $10 per month, members will enjoy up to 50 percent worth of savings on pods that are designed for optimum performance and more flavor to the last draw. 
The pods are activated through Magic Key, a digital chromatic code that can be read by any Airgraft pod directly from the screen of any tech device. A QR code links to Airgraft's web app, triggering a sequence of color flashes that essentially allow your pod to be enjoyed.
"There is no catch; that's the point," Krvavac says. "The membership is the only difference, but memberships aren't an abnormal concept for society today. It's definitely new to cannabis, though."
Airgraft 2 is designed to serve newbies and heavy users alike – a smooth, burnless sensation that is easy to dose and democractic in its quality experience.
"The software really is genuinely amazing. People get it and they feel inspired to go on the customer service chat just to tell us they love it. It's creating a lot of work for our customer service team," Krvavac says with a laugh.
Beyond bringing balance and democracy to cannabis consumers, Airgraft 2 is providing opportunities for smaller cannabis brands to showcase their product and reach a larger, more diverse demographic. 
The Airgraft team is definitely not just looking to only service upscale neighborhoods and users – they want to reach everyone, and provide a product that is truly universal in its benefits.
"Cannabis companies love to call themselves the 'Louis Vuitton of weed', the 'Gucci of weed', the 'this of weed', the 'that of weed'–" says Krvavac, "we just like to think of ourselves as the 'Airgraft of weed.' We all do something different, and this is us."
If you live in California and want to give the Airgraft a try, you can sign up for their pre-launch subscription until June 30 to receive your Airgraft 2 starter kit for $11.