The Edge featuring Lulu Tsui, co-founder and chief experience officer, On the Revel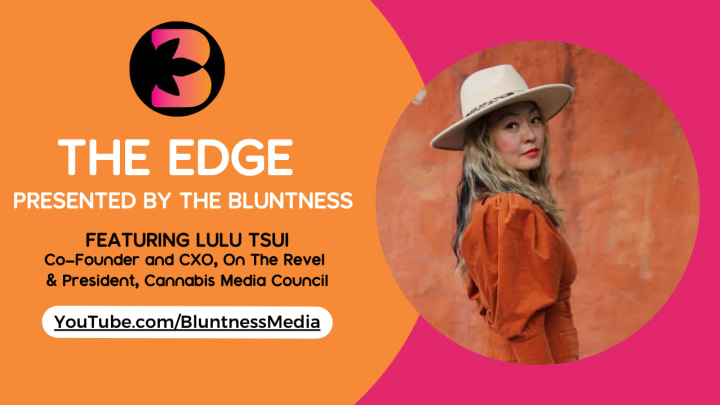 Lulu Tsui, co-founder, On The Revel; President, Cannabis Media Council /
Welcome to The Edge, a business podcast from The Bluntness, where we unpack real-world experiences and expertise of seasoned & successful professionals across both legal and legacy cannabis.
This week's guest is Lulu Tsui, Co-Founder and Chief Experience Officer at On The Revel, who has established herself as a leading force and thought leader in the cannabis industry. With a background in software design and over 15 years of experience working with renowned clients such as Bloomberg, Thermo Fisher, and Mastercard, Tsui has seamlessly merged her technical expertise with her passion for cannabis. Her dedication to inclusion, diversity, and destigmatizing cannabis use has propelled her career to new heights.
Lulu and her partner Jacobi Holland are the driving forces behind On The Revel, a New York City-based company specializing in curated educational and networking experiences for individuals in and entering the legal cannabis industry. 
Through their Revelry events and the Dope People mentorship program, On the Revel provides a platform for individuals to connect, learn, and thrive within the cannabis community.
In addition to her work with On The Revel, Tsui serves as the president of the Cannabis Media Council, an organization that strives to destigmatize and normalize cannabis through traditional media channels. Her involvement allows her to shape public perception and challenge misconceptions surrounding cannabis use.
Tsui's influence extends beyond the realm of cannabis events and media. She also acts as a user experience and research advisor at Oakland Hyphae, the visionary team behind the Oakland Psychedelic Conference and the Psilocybin Cup. Her involvement demonstrates her commitment to exploring the broader spectrum of plant medicine and advocating for its responsible integration into society.
Tsui has also applied and is waiting for a retail license in Brooklyn and is patiently awaiting her turn to contribute to the legal cannabis market here in New York, sympathetic to the importance of fairness and rectifying past inequities and the state's commitment to first granting licenses to those who have been disproportionately affected. 
With her knowledge, experience, and insights, Tsui offers her "front row" perspective on the challenges that the impending legal adult-use market in New York may face. Her advocacy for small and medium-size cannabis operators also reflects her desire to create a thriving and inclusive industry.
Lulu Tsui's innovative thinking, dedication to social equity, and commitment to driving positive change in the industry position her as a remarkable force shaping the future of the cannabis landscape.
The success of the cannabis industry is built on solid relationships and meaningful partnerships that drive positive outcomes for all. To help facilitate this, Lulu and the On the Revel team are hosting their second Revelry Buyers' Club on June 22. The Revelry Buyers' Club is a private, industry-only event for vetted NY licensed operators where retail buyers can directly connect with cultivators, producers, brands, and ancillary companies. The mission of the Buyers' Club is to empower operators in the new New York cannabis market to create impactful relationships that can cultivate a healthy, collaborative, and sustainable industry.
Watch the full episode of The Edge featuring On the Revel's Lulu Tsui here: