Bluntness Picks: 5 Edibles We Love
Jul 21, 2020, 7:23 AM EDT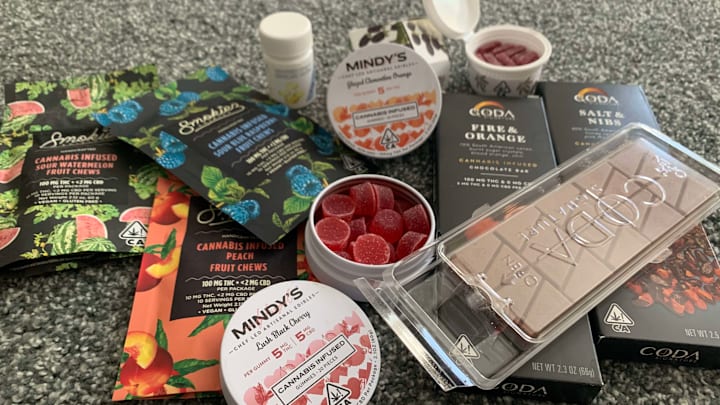 Edibles are all the rage as cannabis enthusiasts try to make healthier decisions for their lungs during the COVID 19 pandemic.

With so many edibles to choose from, it can be tricky to find those that stand apart from the pack.

The Bluntness Team hit several cannabis dispensaries and found these five standouts. These are the top 5 cannabis edibles we love right now.

1.

Coda Signature
The Bluntness team first met these deliciously crafted chocolates at Hall of Flowers and boy are we excited the brand has solidified its position as the Willy Wonka of cannabis chocolate in both Colorado and California! The brand proudly shares that it operates with "music as our muse and cannabis as our medium," and we totally see that! Each Coda chocolate bar is expertly crafted with various notes of flavor and smooth chocolate — it's a symphony for your mouth and a delightful buzz for your body.
Our picks: "Salt & Nibs" and "Fire & Orange" are definite stand-outs. Oh, and who doesn't love some "Cream & Crumble?" You really can't go wrong when it comes to picking a Coda flavor.

2.

Wyld
When it comes to cannabis gummies, we're simply wild about Wyld. These gummies - available in Oregon, California, Nevada and Colorado are the pride of the Pacific Northwest and with good reason! When it comes to texture and "real-fruit ingredients and flavors," Wyld is an alpha in the edibles pack.

Our picks: "Huckleberry Hybrid Enhanced" gummies and "Marionberry Indica Enhanced" gummies are perfectly balanced and unique in their flavors which pay homage to fruits that scream summer and are the pride of Oregon, where the company is based.
3.

Smokiez
Ah, good old Smokiez! Available in California, Oklahoma, Oregon and Washington State, these fruit chews — available in THC and CBD — are delicious and get the job done. The company prides itself on providing delicious flavors we can't get enough of as well as "high-quality extract" in every bit

Our picks: "Sour Watermelon," "Sour Blue Raspberry" and "Peach Fruit Chews" are all so good, it would be crime to pick just one! We'll take the entire fruit basket.

4.

Mindy's
We were stoked to see famed cannabis Chef Mindy Segal had diversified her cannabis expertise with her own line of "Chef led artisanal edibles." Mindy is Chef/Owner of Mindy's Hot Chocolate in Chicago, and we've been dying to go. So far the delicious flavor of her gummies are holding us over until we can book a plane ticket to the Windy City. We're also big fans of the customizable dosing options when you want a little buzz but not too much!

Our picks: Gummies in "Lush Black Cherry" and "Glazed Clementine Orange" are so tasty, you'll think you just bit into a ripe fruit!

5.

ABX Soft Gels
They might not be gummies or chocolates, but we're big fans of ABX Soft Gels and their clean, relaxing vibe. From the growing and lab operations of AbsoluteXtracts, these superior quality soft gels have been created with "pure, safe and potent cannabis concentrates" and deliver every time whether you're looking for pain relief, relaxation or a little something to help you sleep.

Our picks: We dig ABX "10 mg Soft Gels." They're the perfect dose and keep you clear while taking the edge off.
WANT MORE? Sign Up for The Bluntness Newsletter for your Weekly Dose of Cannabis News